Back to our stories
Our Legendary Leaders: Jay Gibson, Senior Manager Pharmacy Supply
Success comes with having a great team behind you and that's what I've got in Pharmacy Supply!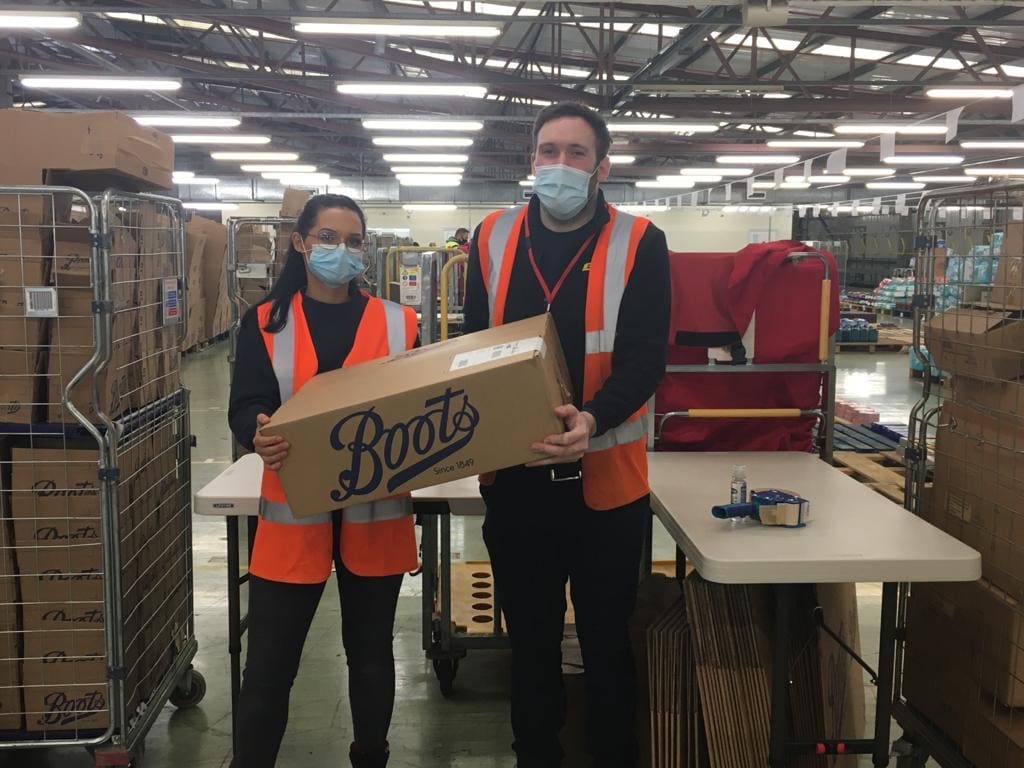 Jay is a Senior Supply Manager, managing a team who are responsible for the supply of pharmacy items to stores, delivery of supply chain efficiencies and maintaining strong relationships with key pharmacy stakeholders and suppliers. With the challenges we've faced in 2020, Jay takes us through two big projects he's worked on recently, continue reading to find out more.
When did you join Boots?
This is actually my third time working at Boots, but in total I've worked for the business for 19 years. I originally joined the company in 1998 as an Operations Assistant, where my role was focused around merchandising, before moving over to Supply Chain, where my real passion lies. I have been lucky enough to hold a variety of different roles in the Supply Chain team.
What is a Senior Supply Manager?
As a Senior Supply Manager my role is varied and often involves calls for creative thinking day to day. My team and I focus on three areas of supply; Customer Facing, which is all about delivering a great service to our shops and customers through our pharmacy replenishment system, data and networking, aimed at providing the insight we need to manage performance well, and supply optimisation, which is the part of my team that connects the dots between pharmacy supply, operations and services.
On any given day this can mean I am supporting initiatives to improve service levels, discussing logistics with suppliers or feeding into plans for this year's Flu season.
In addition to this, I am always keen to understand where pharmacy supply can unlock benefits and efficiencies, both within my area but also in the wider business.
Pharmacy Loss of Stock
Loss of stock is a big issue for many businesses, one key driver of stock write-off in pharmacy is due to stock going out of date. This represents a huge value to the business and with that in mind, in January 2020 'Project Tetris' was set up to address this. Using functionality from our Columbus system we were able to identify stock at risk of going out of date, collect this from store and redistribute to stores that would use it before reaching expiry.
Following a successful pilot at the beginning of 2020, Tetris Phase II kicked off in May 2020 where we worked with 361 shops across the estate over a 6-month period. Firstly, the system identified the stock that was at risk of expiring, stores were then provided with a target list of lines which they prepared for uplift, and my team in Nottingham then went into the store to collect the stock before returning this to the CSSP (our Nottingham hub). From here stock was sorted, catalogued, and finally redistributed back out to stores that needed it. Over the duration of the project this meant we successfully redistributed nearly £2m of pharmacy stock.
Aside from the reduction in stock write off this activity delivers; it also has the added benefit of supporting store service level as we provide much needed items to store.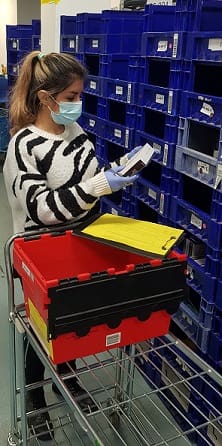 Micro-fulfilment Centres – Responding to Online Demand 
We've all witnessed how the pandemic has accelerated demand for online shopping. To respond to this, a project was put in place in March 2020 to set up micro-fulfilment centres around the country. The purpose of these sites was to help increase our overall online pick capacity while taking some of the pressure off our Burton warehouse through peak trading times.
The first micro-fulfilment centre was set up in Sheffield and thanks to a huge multi team effort across many different functions, this went from conception to being fully operational in just under 10 weeks. Three further sites were opened to compliment the Hybrid stores our Supply Chain Transformation team were working on. These Hybrid stores were set up to support boots.com with getting orders to customers as quickly as possible by using store stock and store colleagues to help pick, pack and send orders to customers to support our warehouse operations.
How do these centres work?
 Very simply, a proportion of the online orders our website receive are sent through to Micro Fulfilment Centres (MFC), each MFC has been set up with a range of core inventory which is maintained by our Retail Supply Team. On any given day, an allocation of orders are sent through to the MFC where the team on hand will pick and pack stock, before getting this ready to be dispatched to customers via the Royal Mail Network.
What do you enjoy about your role?
There are lots of things I like about my role but the two biggest would be, the people – I have a great team around me, and I love the passion they have for their roles and doing the right thing for customers. The second is the opportunities – no two days are the same and working in an area that focuses on both Pharmacy Supply and Supply Chain Transformation means that I'm encouraged to explore new ideas, challenge the norm and try different approaches.
What key skills are needed as a Senior Supply Manager?
– Strategic thinking – being able to think beyond the immediate challenge in hand and wider than your own area of responsibility.
– Networking and communication – whether that is engaging with your team, managing stakeholder expectations, or negotiating with suppliers.
– Creative thinking – there is always a new problem to solve!
– People management – keeping those around you engaged, motivated and focused on objectives.
– Customer focus – never losing sight of our end customer, whoever that might be.
If you are interested in joining our supply chain find our latest vacancies online now.
Back to top