Why join us?
We're a world class, award-winning operation– ensuring that our customers and patients have access to the right products, at the right time in any of our stores across the UK or delivered to their home. Our Supply Chain jobs will inspire you to think creatively to provide innovative and efficient solutions for supply and demand.
Supply Chain careers at Boots present you the opportunity to work alongside forward-thinking and collaborative teams that will support you to reach your full potential. Our Support Office is based in Nottingham, which is where Boots began in 1849 and now stretches over a 279-acre site. Our facilities enable us to supply to customers globally, from the UK to USA.
If you're ambitious, can build great relationships with suppliers across the globe, and collaborate across many different departments, then Supply Chain is a great place to develop your career. To learn more about Boots Supply Chain careers check out Our Stories to read first hand from our amazing team members.
Why Boots?
At Boots care is at the heart of everything we do.
Discover how we support you to achieve your goals, how we're creating an open and inclusive working environment and explore our meaningful benefits.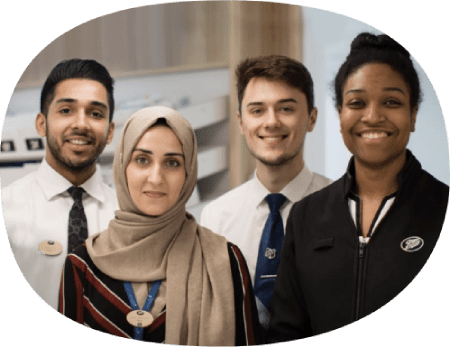 FAQs
Answer
The entry level roles we have within Supply at Boots are Supply Assistant roles. As a Supply Assistant you will be involved in the delivery and implementation of our supply business plans. These roles include supporting the delivery of targets within your team, using facts and data to inform decision making, problem solving and communicating with stakeholders.
Answer
You can apply for Supply Chain jobs through our careers website, our latest opportunities can be found at www.boots.jobs/supply-chain/. When searching for roles you can add additional filters including 'Function Area' and 'Contract Type'. Once you have found a role you are interested in, click 'Apply'. You will then have the option to create an account with us or continue as a guest. The application process will ask you to attach your CV and to fill in some basic contact details and information about your current work situation. Once you have submitted your application, we will be in touch via email or phone to provide you with an update.
Answer
All available roles can be found on our careers site, www.boots.jobs where you can set up job alerts. You can also follow our Boots UK LinkedIn page to find out more about life at Boots and our latest opportunities.