Why join us?
We aim to attract, develop and retain the best people and there are so many ways you can develop a career with us… just bring your passion and commitment and we'll do the rest.
We have a range of Support Office functions and teams to join; from Brands to Finance, HR to IT, Digital to Supply, and much more.
Working at Boots, you'll also have opportunity to support our wider global business which includes the International Segment of Walgreens Boots Alliance, Boots Opticians and Boots Ireland. We offer a breadth of Support Office jobs where you'll be supported to reach your full potential and you'll have the chance to make a real difference to our customers, our colleagues and our communities.
To find out more about the range of careers available to you at our Support Office visit Our Stories to hear from our team members about their career journeys so far and why Boots is right for them.
Why Boots?
At Boots care is at the heart of everything we do.
Discover how we support you to achieve your goals, how we're creating an open and inclusive working environment and explore our meaningful benefits.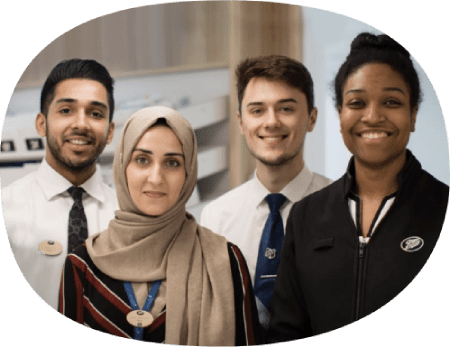 FAQs
Answer
You can apply for Support Office jobs through our website, www.boots.jobs. When searching for roles you can add additional filters including 'Function Area' and 'Contract Type'. Once you have found a role you are interested in, click 'Apply'. You will then have the option to create an account with us or continue as a guest. The application process will ask you to attach your CV and to fill in some basic contact details and information about your current work situation. Once you have submitted your application, we will be in touch via email or phone to provide you with an update.
Answer
Our latest Support Office roles and information about our business functions can be found at boots.jobs/support-office To see regular updates about our Support Office opportunities and the latest news about Boots, follow our Boots Jobs social channels on LinkedIn, Facebook, Twitter and Instagram.
Answer
We have a wide range of Support Office roles, with opportunities in various locations including Nottingham, London and Weybridge. As well as full-time roles we offer a number of flexible working options to suit our colleagues' needs, including job shares and part-time working. From Finance and HR to IT, Procurement and e-commerce; there are many different ways to develop your career with us.