Why join us?
As the largest community pharmacy chain in the UK with over 2000 stores nationwide and over 170 years of history, there is nowhere better to start your journey as a New to UK Pharmacist than at Boots.
You will be supported throughout the transition by our experienced store leaders, a dedicated Pharmacist Tutor and a structured New to UK online learning plan during your first 12 weeks.
Beyond this, there are your so many ways you can continue to learn and grow in your Pharmacist career, with opportunities to train as an Independent Prescriber, become a Store Leader and much more – explore Pharmacy career paths at Boots below.
As a New to UK Pharmacist, you will receive:
A starting salary of £42,000 per year, plus location allowances in selected remote locations
33 days holiday including bank holidays with the option to buy up to 5 days more per year
Double matched Retirement Savings Plan (company contribution of up to 12%)
GPhC registration fees and IELTS costs reimbursed by Boots
Certificate of Sponsorship to work in the UK if required
International Pharmacist Jobs
If you are an and competent in the English language, a career as a Pharmacist in the UK could be waiting for you and at Boots we can support you with a 12 week training period to start your journey.
Find out how some of our current pharmacists found their experience in our where Daniel, Foteini and Raquel share their story of relocating with us as New to UK Pharmacists.
If you're an International Pharmacist looking for pharmacist jobs in the UK, click here to .
Back to top
Our latest Pharmacist jobs
Nationwide Roles
Permanent
Full-time | Part-time
Why Boots?
At Boots care is at the heart of everything we do.
Discover how we support you to achieve your goals, how we're creating an open and inclusive working environment and explore our meaningful benefits.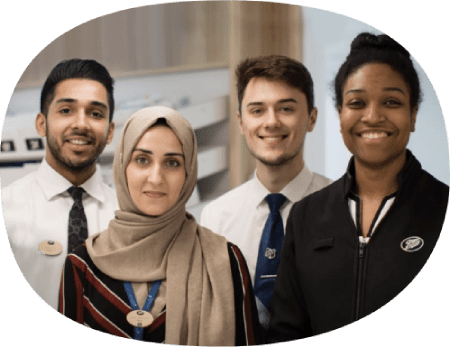 FAQs
Answer
You will need to register with the General Pharmaceutical Council (GPhC) before you can work as a Pharmacist in the UK. If you have qualified as a Pharmacist within the European Economic Area (EEA), you will need to follow the latest guidance on on the GPhC website, you will need to demonstrate evidence of your high level of English before you can register. If you have qualified as a Pharmacist outside of the European Economic Area (EEA), you will need to complete an before you can register.
Answer
Absolutely! At Boots, we have many different practice settings from small local pharmacies to pharmacy practices within our large flagship stores and everything in between. Not sure what type of store is for you? Why not start as a Boots Relief Pharmacist where you'll get the opportunity to learn what you prefer, experience different environments, and make new connections before taking on a store-based opportunity.
Answer
Yes! We recognise that when you move to the UK for the first time there may be some differences in your experience, which is why at Boots we offer a 12-week training period. However we know you will still be bringing plenty of experience from your previous roles so your full-time salary will reflect the experience that you have accrued during your career so far.