Back to our stories
Learning & Development Careers at Boots Opticians – Anthony's important role as Learning & Development Designer
I love that there is always something different going on and a new project to sink my teeth into where I have the freedom to be creative and explore new ideas.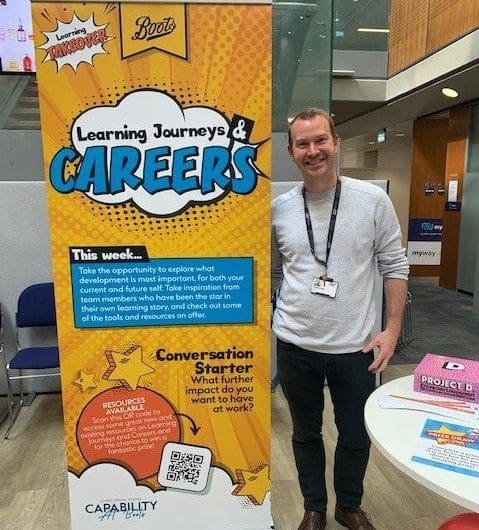 Hi, I'm Ant. I started at Boots in November 2019. I have always enjoyed being artistic so naturally my career was going to go down the creative route. I started off studying Graphic Design at college before specialising in Animation at University. My first creative role was as a Graphic Designer at a magazine publishing company. I then moved into a more digital, e-Learning role for a pharmacy training company before joining Boots Opticians as a Learning & Development Designer. I've developed an extremely varied skill set over the years, combining digital and print design roles which has helped me massively, but the one key skill I think needed for this role is to be able to put myself in the mindset of the learner to design engaging and easily digestible learning to suit their needs.
A day in the life of a Learning and Development Designer at Boots Opticians
Being a L&D Designer means I work closely with subject matter experts to deliver high quality, professional training solutions throughout all the training programmes at Boots Opticians, such as BOOST for new Optical Consultants, the Pre-reg Programme for Pre-registration Optometrists and CPD (Continual Professional Development) learning for Clinicians. I also work on a variety of other projects too like BEST (Brilliant Engaging Sales Training), which was launched across the whole of Boots Opticians.
My role is varied, and every day is different as there is so much going on. I love it when we are starting a new project as I get to create all the branding and design the look and feel to give it its own recognisable identity.
The role is so varied as a lot of what we do is blended learning, so there might be printed material to create, presentations, online resources, interactive e-learning, video capture and editing, podcasts, plus anything else that might come along, which is great as I love learning new skills. We are currently planning for some face-to-face events and it was suggested that it would be amazing to have a hologram of someone welcoming you to the event so that's something I'm looking into right now! I love having the freedom to try out new things and seeing what new technology we can use.
Why is your role important to Boots Opticians?
My role is important to Boots Opticians as all team members in Boots Opticians stores will see something that I've created. Designing their learning content in a way which they can digest, remember and implement into their day-to-day role is my main goal. I work across multiple teams as well as the L&D Specialist team to help them land their projects, like Professional Services, Transformation, Communications and Commercial teams. All of which require me to create engaging design work to support their projects.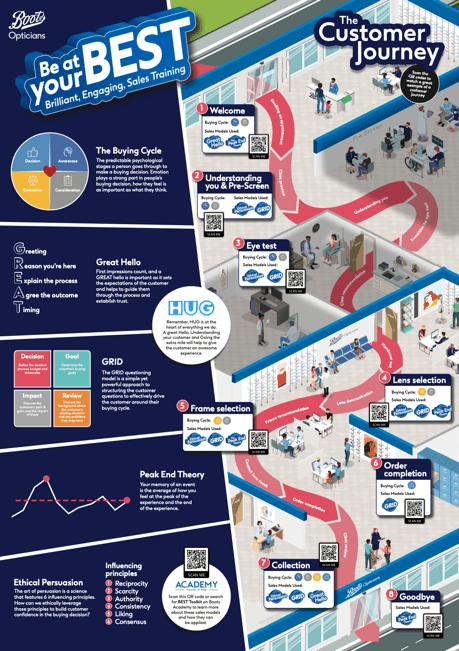 What is your proudest moment at Boots Opticians so far?
I think one of my proudest moments would have to be working on the BEST (Brilliant Engaging Sales Training) project. I was involved in BEST from the very start and created the logo and gave it it's visual identity. BEST is a big deal for Boots Opticians so the look and feel of it all had to match the investment. I also created the BEST interactive poster with a very detailed customer journey illustration which has gone into every store and acts as a gateway into the rest of the learning which has been really well received.
Another project I'm particularly proud of is the Learning Takeover week. This was a company-wide incentive where we put learning at the forefront of everyone's minds with activities and events going on throughout the week. I also gave this project its own identity and came up with the fun pop art style branding which everyone loved, and it looked really great throughout Nottingham Support Office. I also created the pocketbook which went out to everyone in stores and the Support Office. This project transcended over the entire company and not just Boots Opticians, so everyone in Boots UK, Beauty, Pharmacy, Warehouse and Boots Ireland have all seen my work too.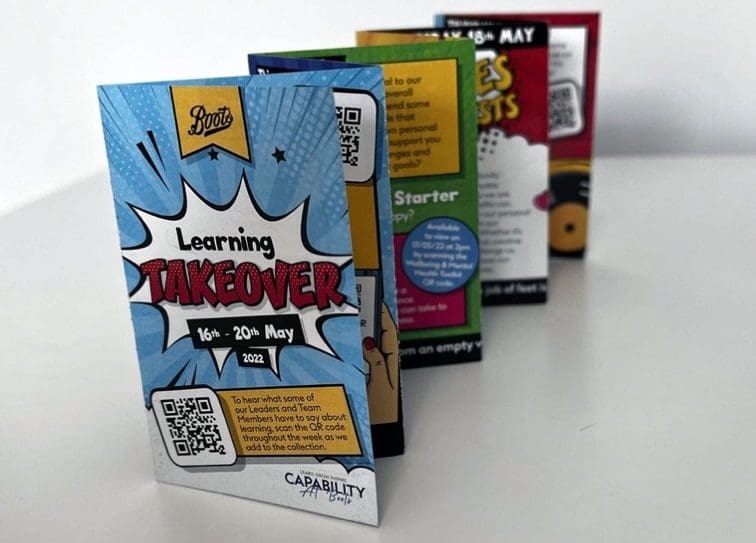 Why should somebody join the Boots Opticians team at Nottingham Support Office?
I really enjoy working at Boots Opticians as I work with such a passionate and supportive team. I love that there is always something different going on and a new project to sink my teeth into where I have the freedom to be creative and explore new ideas. In the Support Office there is also loads going on with weekly pavilion events and a variety of Business Resource Groups to become a part of and support, such as Pride Alliance, disability Alliance, Environmental Sustainability and many others. My partner is always happy when I come home with some new goodies for her to try. There are so many benefits in the Benefits Box too, I personally take advantage of the Cycle to Work scheme and the generous staff discounts.
Find your next role at our Nottingham Support Office! Read more about our Support Office Jobs here.
Back to top