Back to our stories
Our Legendary Leaders: Mo Hassam, Head of Stores – South East England
I always ensure that I take time to listen to what people have to say, regardless of which role they perform. It's important to me that our people feel heard and that their contribution matters.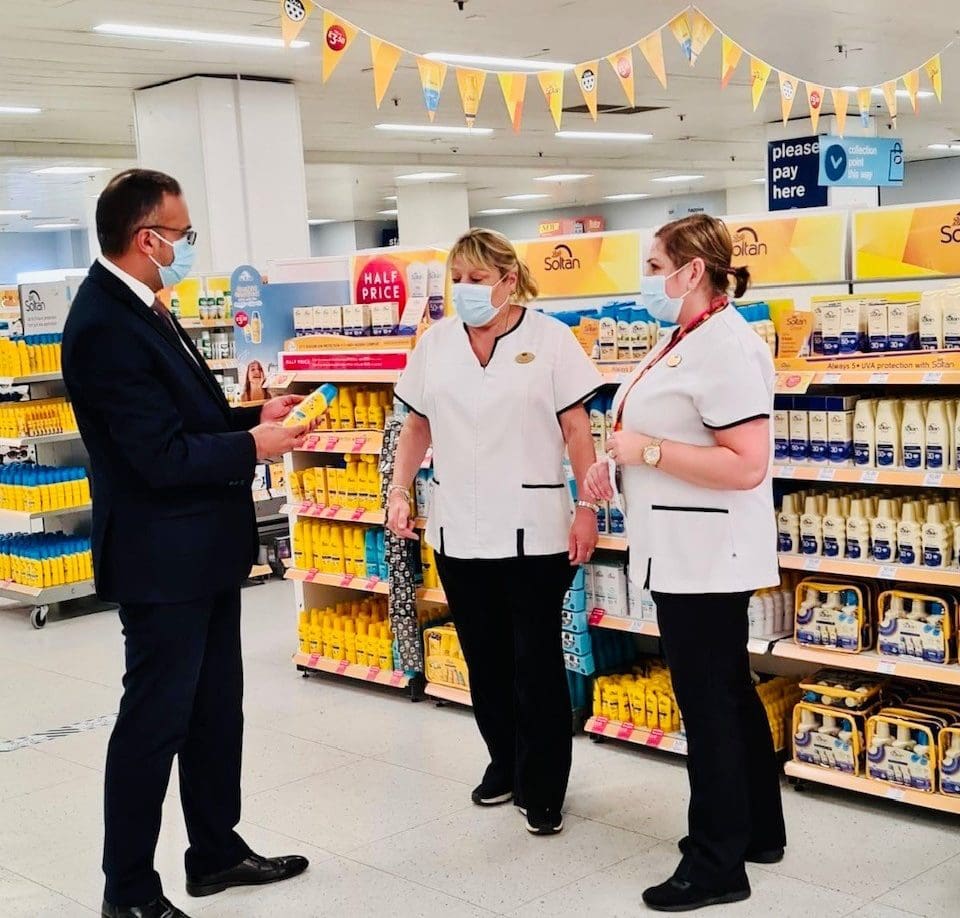 Meet Mo Hassam, Head of Stores for South East England. Mo joined us prior to studying Pharmacy in 1995, then, after completing two summer placements with us, he began his Boots pharmacy career as a Pre-Registration Pharmacist in 1998 and he's been on quite the journey ever since.
Tell us about your career so far
I have had a varied career with Boots over the last 23 years, continuing my journey as a Newly Qualified Pharmacist in 1999 at our Wimbledon store, then shortly after that undertaking the role of Pharmacy Manager in the same store. I progressed to Store Manager in 2001 and continued managing different sized stores. During my time as Store Manager, I also completed a Clinical Diploma which I found very rewarding and really helped to enhance my clinical skills as a Community Pharmacist.
In 2009, I was given the opportunity to become a Regional Operations Manager for Airports. The Airport format was in its relative infancy then and it was great to play a part in shaping the commercial and merchandising strategy. After two successful years in the airports, I took on the role of Area Manager for Local Pharmacy, then progressed to Area Manager for Health & Beauty stores.
In 2013, I took on the challenge of managing one of our premier flagship stores, Liverpool Street Station, which was both very challenging but also very rewarding. My career continued in London and after almost a year of managing Liverpool Street, I was asked to lead my first Region – Surrey & West Sussex. After a successful period in that role, I returned to lead Regions in London, looking after both Greater London North and South. In 2017, I was given the privilege of leading South East England Region.
Leading a Region entails a huge level of responsibility, not only for ensuring the business performs well, but also that the people you lead feel engaged, valued and on-board with the company plan. No two days are ever the same!
The most enjoyable part of the role is to visit stores and meet our great team members. It's always a learning experience, quite often our team members have the best ideas to improve a system, process or business KPI – I ask lots of questions when out in stores as I am ever more curious to learn. It's always brilliant to see the dedication of our Store Managers and pharmacy teams in striving to deliver an unbeatable level of care for the patients or customers that they look after in that community.
What is something you are proud of?
I'm particularly proud of winning Store of the Year in 2005. I managed our store in Cheam Village, Surrey and won the company category of Store of the Year – Community Chemist.
In 2018, I led a project for the South Division where we raised over £100,000 for Macmillan Cancer Support. This was a huge collective effort, spanning six Regions and involving some 20,000 team members – I received a Corporate Volunteer award from Macmillan and was also recognised at the conference.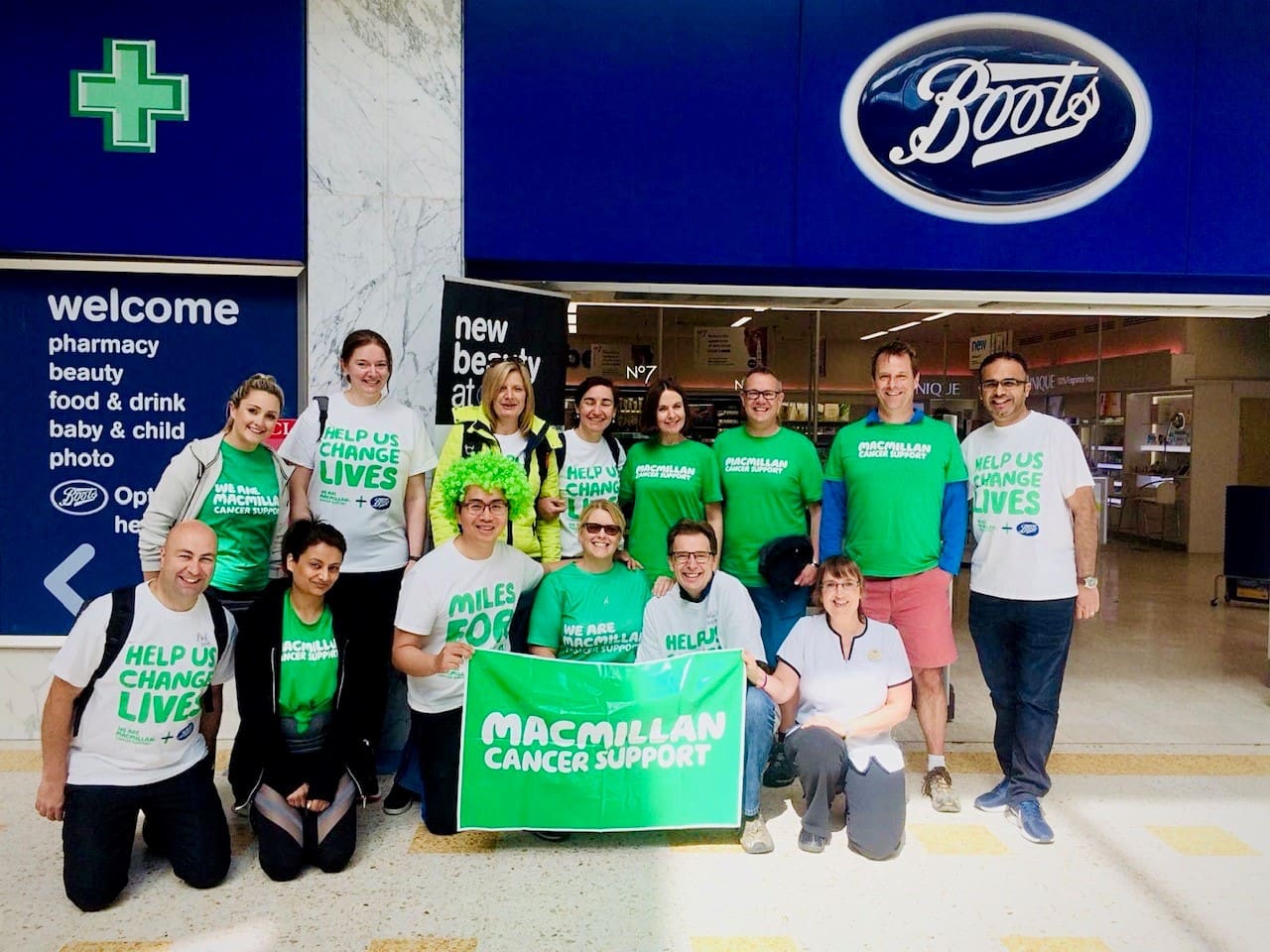 How have you been supported throughout your career?
The support network at Boots is fantastic. Throughout my career, I have had leaders that have stretched me and given me different opportunities to develop my skills and knowledge base. I have also had leaders that have encouraged me to step outside of my comfort zone and apply for roles where perhaps I didn't feel I had the right level of experience.
You joined us as a Pharmacist and have progressed into Retail Leadership, did being a Qualified Pharmacist help with this progression?
Being a Pharmacist has been immensely helpful throughout my career. For a leader in a healthcare led business, it's a huge advantage when you have the core knowledge of pharmacy and understand the heritage of the company.
Although I don't practice day to day pharmacy anymore, I have a deep connection with progress within pharmacy and how our systems and processes can be improved for our dispensing teams and Pharmacists.
I'm very proud that I am a Pharmacist, and always share that when speaking with team members in our stores. It's important to me that pharmacy team members know that I understand the day to day challenges they face and that I am part of the profession that they also represent.
Have your career aspirations changed since you were studying to be a Pharmacist?
When I finished university and started my Pre-reg I always thought that I would pursue a more clinical route. Pharmacy services and prescribing were not very mainstream when I qualified, so in some respects, I began to form more of an interest in retailing and business whilst still being a practicing Pharmacist.
I've really enjoyed the variety of experiences I've had at Boots and, despite not pursuing a clinical career route, have achieved goals that I never thought were possible. It's great that pharmacy is such an important part of my business at present – I have good working knowledge of pharmacy, especially governance and law.
What does being a great leader mean to you?
Being a great leader is about empowering people to make decisions and flourish. It's always really important to give your teams space and opportunity, whilst also guiding them and challenging their thinking. I always believe that everyone has potential, and whilst we may not all be the same in our approach, there are many different ways to achieve the same or better results.
I always ensure that I take time to listen to what people have to say, regardless of which role they perform. It's important to me that our people feel heard and that their contribution matters. I also ensure that I remain grounded – it's always very rewarding to pitch in when teams are busy or need a spare pair of hands, especially at Christmas time!
What advice do you have for anyone wanting to progress into a leadership role?
Always take the opportunities to stretch yourself. Sometimes you may see a role which is particularly challenging or one where you may feel you do not have the right level of experience – don't be afraid to put yourself forward. What you learn from taking on such roles will really help you progress your career and when you do finally make it to Area Manager or Head of… Nothing will phase you!
Always treat your team members with respect – they will be your biggest supporters and advocates as your career begins to ascend.
Looking for your step into management? You can read more about Retail Management jobs here and our Pharmacy Store Manager jobs here.
Back to top