Back to our stories
Disability Inclusion at Boots – Sally's Story
Boots have helped me find roles that suit my disability and still use the knowledge and skills I have.

To find out more about the role of Business Resource Groups (BRGs) and the benefits they offer to both colleagues and the business, we caught up with Sally Lodge, Learning & Development Coordinator for Boots Opticians and proud member of the Disability Inclusion BRG.
My Story
In 1998 I was working at Boots Opticians, Victoria Centre, Nottingham as a Dispensing Optician when my right hand felt funny and I was struggling to hold my pen. Over the weekend the numbness and loss of use spread throughout my arm and whole right side and I was dragging my leg when I walked.
Following 2 years of similar episodes of numbness, pins and needles affecting different regions of my body I was eventually diagnosed with Multiple Sclerosis.
When I was first diagnosed there weren't any disease modifying drugs and they could only treat the symptoms as they happened. This had a huge impact on my physical and mental health. I didn't know when I was going to be affected or what was going to happen. I was tired all the time and I couldn't stand up for long which had a huge impact on my job. I struggled with doing fine things with my hands like putting screws in glasses and I couldn't control my body temperature and was hot all the time.
Boots and my manager at the time did their best to support me in the role I was in but first I had to learn to accept the changes I needed to make due to my MS.
After a few years of struggling to try and continue I did eventually decide to accept the situation and adapt my home and work lifestyle to suit my condition. I discussed this with my manager and with the support of an ER Manager I found a more suitable role in the Nottingham Support Office within pharmacy deployment. It was odd to step out of optics but I soon discovered other skills and talents I never knew I had or that my existing ones could easily be transferred. Once I got a desk job, life became easier and it wasn't long until I re-joined Boots Opticians in resourcing and then moved to learning and development.
Boots Opticians have been great in supporting me. They have helped me find roles that suit my disability and still use the knowledge and skills I have. I'm not a practicing dispensing optician but working now in learning and development I am able to pass on the knowledge and understanding of the optics world to our students and colleagues.
I've had some great line managers who have supported me, and I have had some who don't know what MS is, which is understandable. I have found talking to my managers and being open important to help them gain a better picture of how they can best support me to be the best I can be in my job.
I joined the DisAbility Aliance BRG in January 2020 but due to the Covid situation being furloughed have only just become a more active member.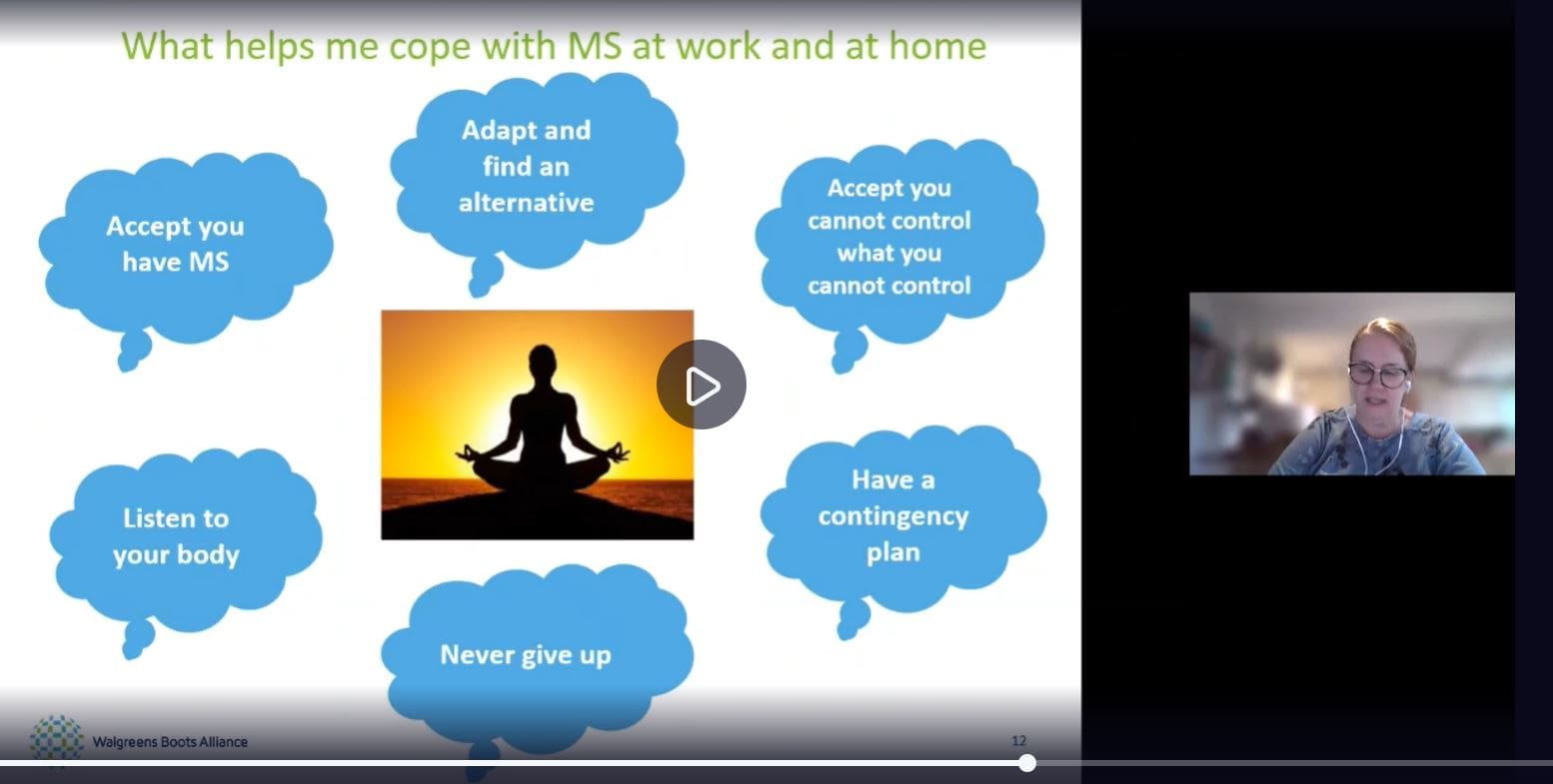 I am so excited about Boots' involvement with the Diversity, Equity and Inclusion policy as I believe this is a start to make changes for others, so support and help for colleagues becomes easier and more of a natural process. I was pleased with what Boots did for me at the time of  my diagnosis and I feel the BRG can support the business in so many aspects to help colleagues look at things differently in supporting disabled colleagues and customers.
About the DisAbility Alliance BRG UK
We are here for anyone who is interested or requires support at work or at home, around a disability. We look at ways of raising awareness of disability inclusion at work amongst colleagues so they can support one another and also have a better understanding when dealing with a disabled customer. The Business Resource group is for anyone who is interested in creating a disability friendly inclusive community in Boots.
Due to lockdown and the Covid situation of 2020 we only really just restarted the group and we are currently looking at our pillars. Our first event was for the International Day of People with Disabilities on the 3rd December to raise awareness of disabilities. We meet monthly and have introduced guest speaker spots to talk about the different conditions people have. We have signed up with BDF (business disability forum) and we are raising our BRG profile around the business via strategic partnership
What are the benefits of joining the BRG?
By joining the disAbility Alliance you will have access to a group of colleagues who work across the wider organisation who share an understanding of having a disability. As a group we can make a difference within the business that will benefit both Boots colleagues and customers who have a disability, for example we work on creating an inclusive and supportive environment, connect colleagues with external resources and support, offer advice and raise awareness and education within WBA.
What the BRG means to colleagues
– Making a difference
– Finding support and what is available
– Provide ideas and resources to make Boots more accessible
– Learn and share experiences
– Increasing awareness
– Continue to raise awareness and make our voices heard
– Be more visible across all spheres of influence
The importance of disAbility Alliance Business Resource Group
– Belong!!
– Give a voice to colleagues with disability (visible and not) or long term condition.
– Be an advocate, build network, change perspectives, champion your cause.
– Engage, educate, empower adding value on who we are as people
Why are allies and allyship important?
To be an ally supports and promotes diversity and inclusion. This is important to help break silos. Allyship means being an advocate to learn, engage and support your colleagues to address bias, intolerance and discrimination that can exist for disabled people.
We have an ambitious plan for 2021 with lots of activities. We are passionate about embracing the diversity of our colleagues and providing a positive and inclusive working environment for all. If you're interested in finding out more about Business Resource Groups at Boots, you can read more in Fauzia's blog here.
Back to top