Back to our stories
Being a Boots Macmillan Beauty Advisor, all things No7 and working with Tess Daly and Claudia Winkleman – Charlotte's Career Journey
Being a Macmillan Beauty Advisor is an active part of No7 and I'm so honoured to have won the Corporate Volunteer Award for the South West back in 2019 for the work I have been done over the years, to this day it is one of the proudest moments of my career.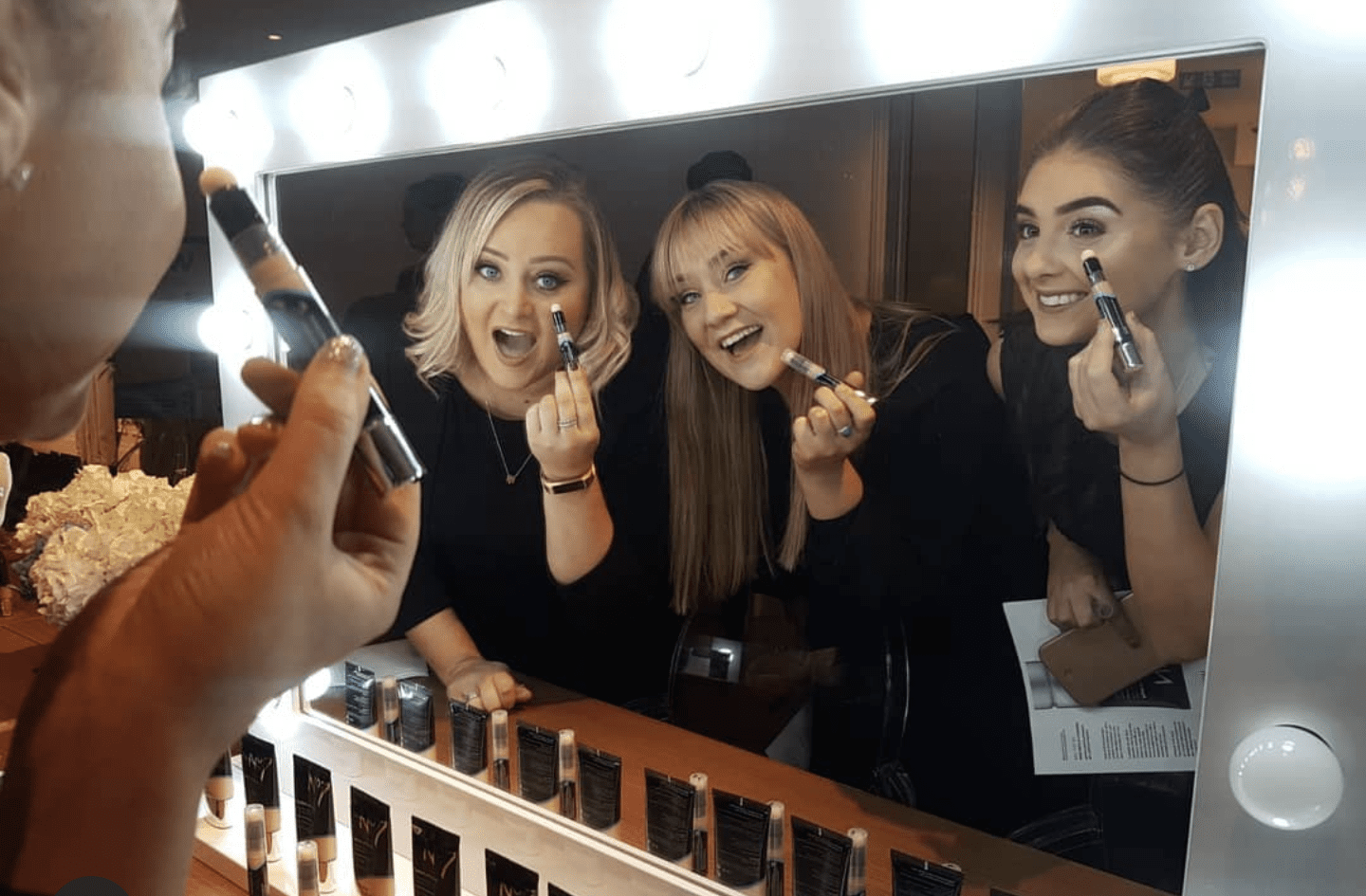 Hi, I'm Charlotte, I have worked with Boots for 12 years and I have had a passion for all things makeup and skincare since I was 13. I always presumed a beauty qualification was needed to work in the industry, but when I was 18, I applied for a part-time role on a premium beauty brand and the rest is history! As I was a student when I initially joined Boots, I didn't intend for beauty to be my long-term career choice, however, only a few months after I started, I knew I wanted a career in beauty and all these years later I'm just as excited about my role as I was back then.
I started in the Plymouth flagship store and have since found my career has taken me all over the UK. I currently look after the Devon, Cornwall and Somerset region though you'll frequently find me in Nottingham Support Office, events in London and larger cities all over the nation with my team. As a self-confessed beauty addict, being surrounded by the ever-changing trends that take the industry by storm, I love to research what our customers' needs are, what they are inspired by and how that can then be translated into product recommendations for them.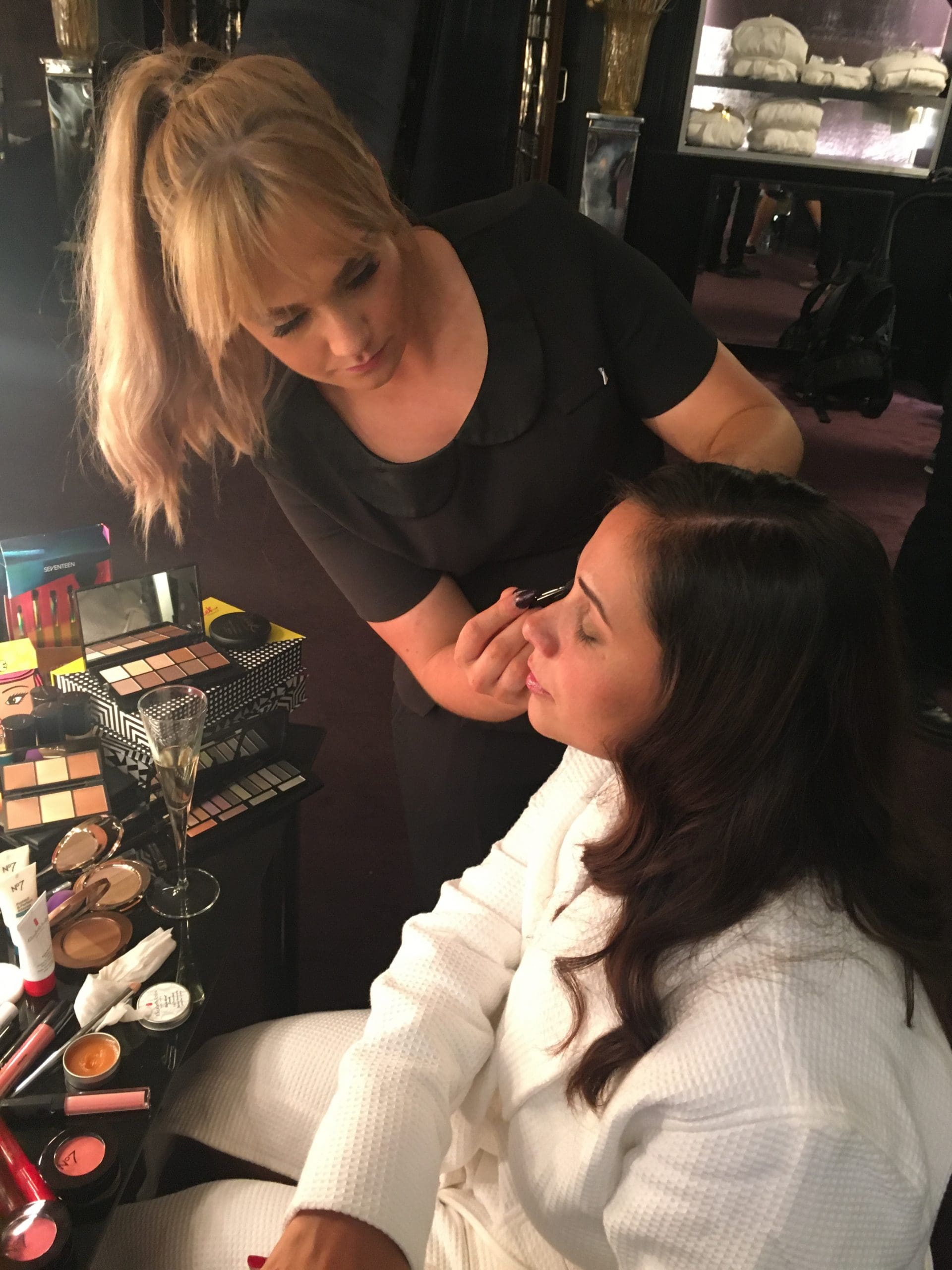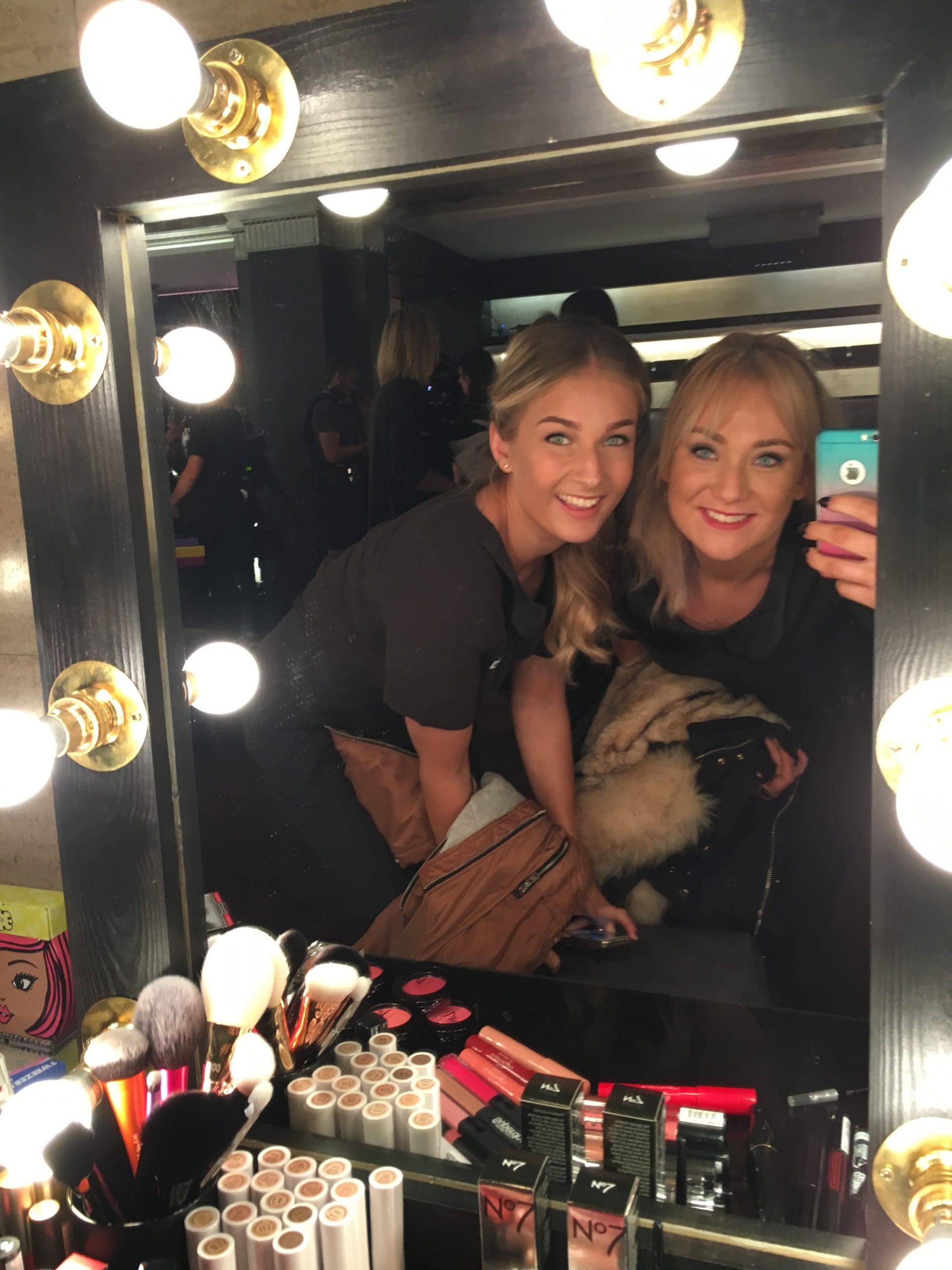 Your first role at Boots
I started my Boots journey by working for some of the big brands in our beauty halls such as Benefit Cosmetics, L'Oreal and Smashbox which really unleashed my passion for skincare, makeup technique and leading a team. Then my Store Manager approached me about a No7 Business Manager role. This role was a big promotion, leading a team of 10 No7 Advisors but I went for it and I am so glad my manager gave me the confidence to believe I could do it.
Working for No7 has been a dream, when you fall in love with a beauty brand that you so happen to work for, it never feels like a day's work. No7 is all about empowering people to feel good, having a solution for every beauty need and putting our Advisors at the heart of the brand. My values align with the brand and with the initiatives No7 supports, including working with menopause specialists to open up and normalise the conversation about menopause and collaborating with AllBright, an organisation supporting women to be successful in the workplace.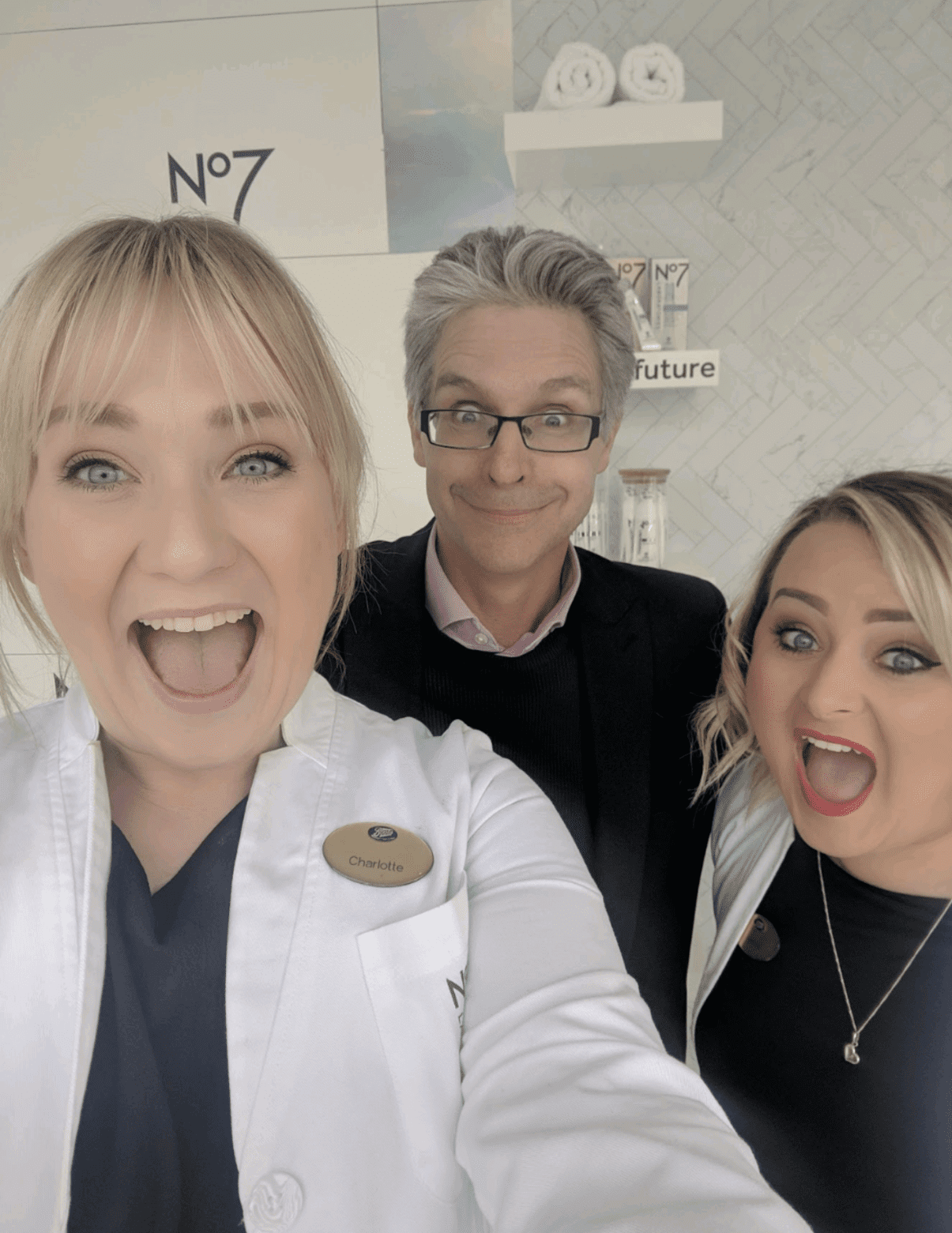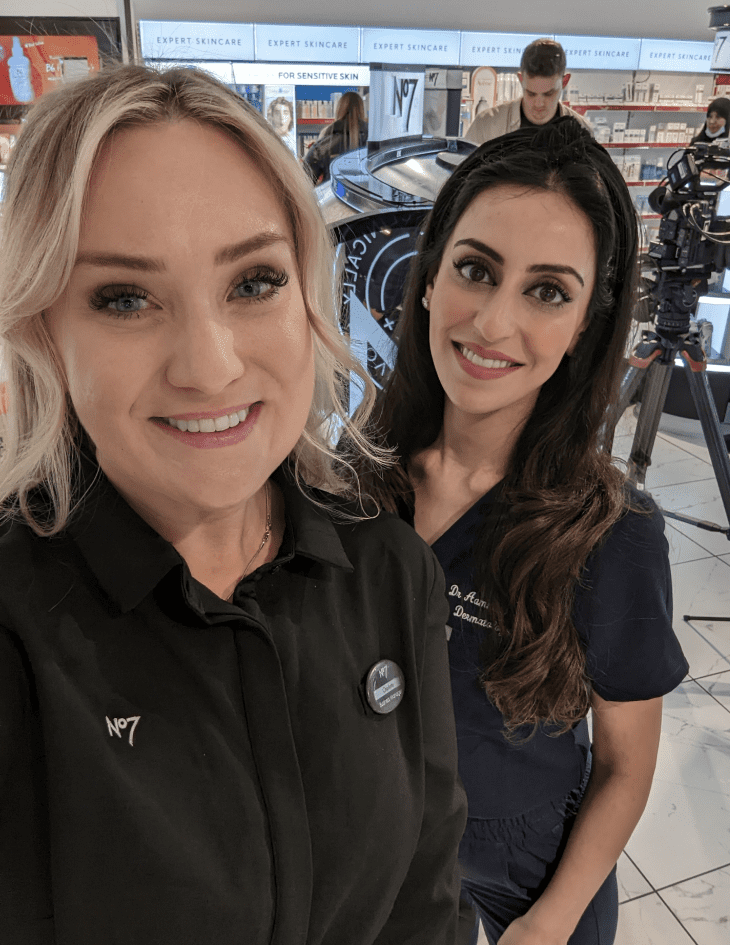 Being a Boots Macmillan Beauty Advisor
No7 works closely with Macmillan Cancer Support to support those undergoing treatment and I am proud to have been a Macmillan Beauty Advisor since 2014. I have always had the mindset that if you look good, you feel good – my own personal struggles with skin issues over the years definitely taught me that so when the role launched, I was first in line to be trained as I knew it gave purpose to the skills of Beauty Advisors being able to help patients through some of the most challenging times after diagnosis and dealing with the physical side effects of treatment. The difference in the person you see when they walk into store looking for advice after a diagnosis or whilst undergoing treatment versus the person you see leaving the store is transformational. Sharing hints on how to recreate brow hair or define lash lines or recommending the right skincare routine to help with medically induced skin changes can be lifechanging for a patient. I feel so incredibly proud every day to be a Macmillan Beauty Advisor. It has introduced me to hundreds of courageous people over the years who have kindly shared their life stories with me, the connection created through a Macmillan service is very special and I keep in touch with many people because of it. Being a Macmillan Beauty Advisor is an active part of No7 and I'm so honoured to have won the Corporate Volunteer Award for the South West back in 2019 for the work I have done over the years, to this day it is one of the proudest moments of my career.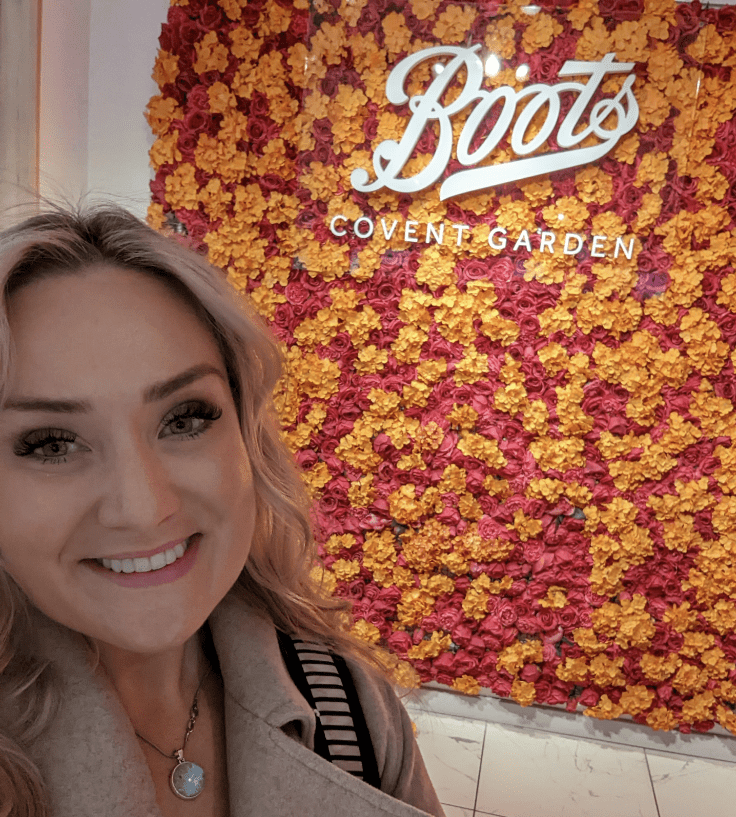 Your current role as a No7 Business Manager
After three years as a No7 Business Manager in Plymouth, the role of No7 Regional Business Manager became the next natural progression for me and it is my current role which I have now enjoyed for six years. I not only support the No7 brand but also our sister brand Liz Earle Beauty Company across the South West region. My daily responsibilities include store visits to support and bring to life the commercial plan with my teams, recruit new talent, support the induction of new team members and be the conduit between Support Office and stores. As a Regional Business Manager, I work cross-functionally with Support Office teams such as Service and Education, Commercial teams, new project forum groups and Macmillan corporate teams to offer feedback and perspective from retail colleagues and customers to sculpt the future of the brands. I love that No7 takes the ideas and opinions of Advisors into consideration when making decisions about our brands.
The skills to be successful in a field role like mine, include being adaptable and flexible to the job, a task may pop up to prioritise with a quick turnaround. It's important to be able to multitask as each day is very different, which I personally love about the role. As a Regional Business Manager there are many different stakeholders I work with. Being able to pitch my ideas or plan of action to a senior leader, as well as an Advisor team, indicates I must influence in different ways. Coaching to develop my teams is the skill I use most frequently; empowering Advisors to be the best they can be to deliver great customer service and deliver on commercial targets.
The best advice I can give to someone wanting progress into a regional field role would be to network as much as possible to understand the business as much as possible, a beauty brand has numerous teams working together to deliver on one goal. You have to be passionate for sales and love working with different people daily.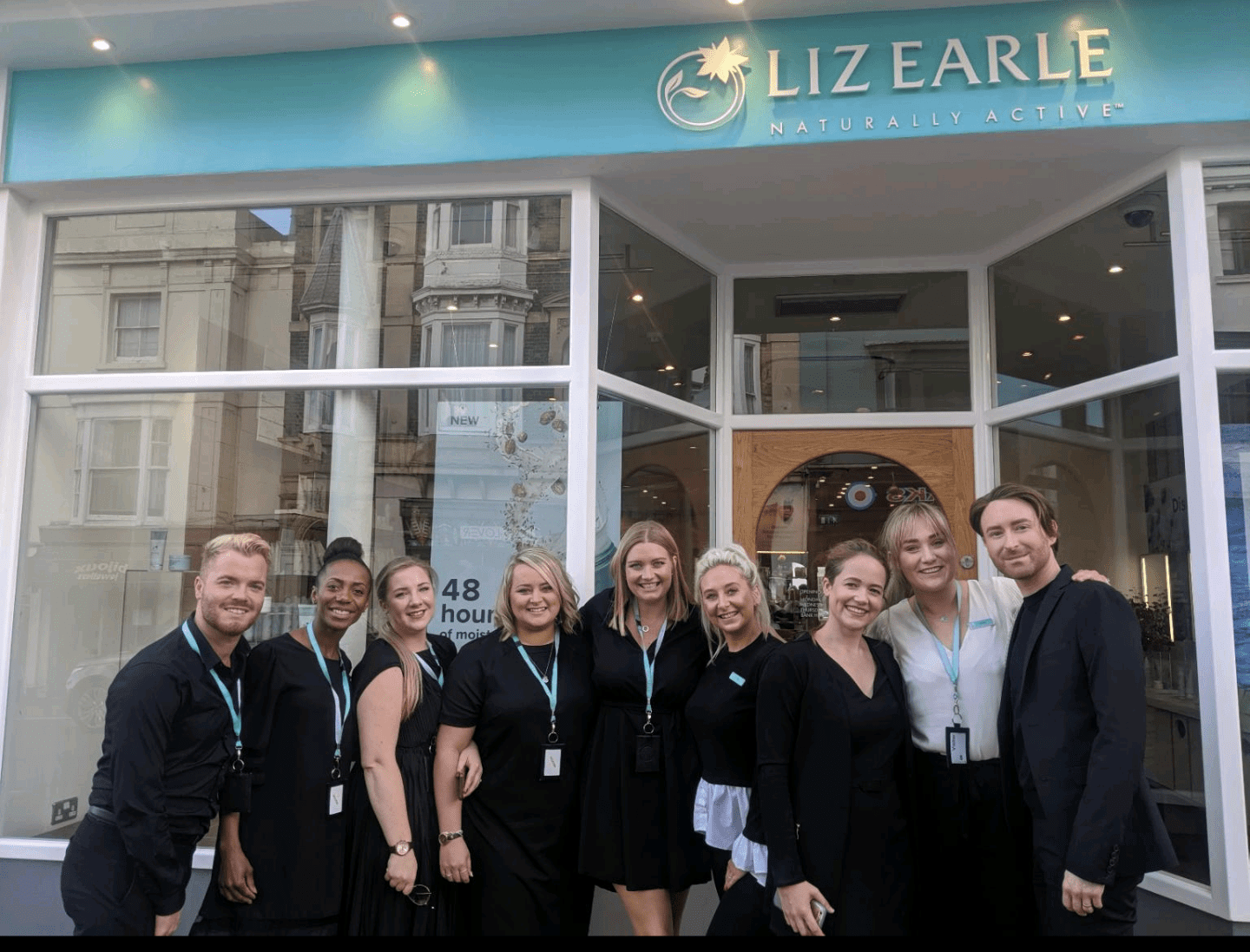 Our No7 Beauty Conferences
A big event for No7 is the annual Beauty Advisor conference events. It's the time for every No7 team member to come together to find out about the next big launch, celebrate successes, learn about the plan for the future and network throughout the day. Thousands of colleagues join the event and the energy is always electric, but of course 2020 changed how the event could be done. Along with the rest of the world, we discovered the power of virtual eventing and how it can be just as enjoyable as a face to face event. By using live chats, talk show style segments and real-time fun VTs, the events engage colleagues on the world of No7 and the future plans, and the launch of No7 TV created a virtual platform for Advisors to be a part of whilst in store or at home.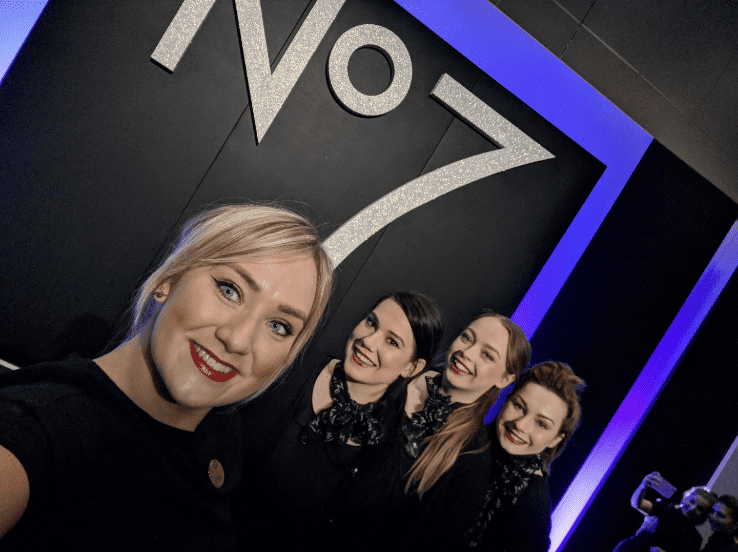 Tell us more about the Skin School programme
A trend we have seen in the skincare industry in recent years is the rise of 'skintulectual' customers who are far more aware of their skin needs and the skincare products available. The No7 Beauty Company launched an accredited education programme to enhance Advisor knowledge on the skin. The programme is like nothing I have seen before in the industry for retail beauty colleagues, the depth and understanding of the education details skin physiology, skin conditions, the menopause, product development and so much more. I've enjoyed bringing the programme to life in store with my teams, coaching the education on the shop floor and supporting further learning. I've learnt so much in the last year because of skin school and in the beauty industry knowledge is power as it is so fast paced.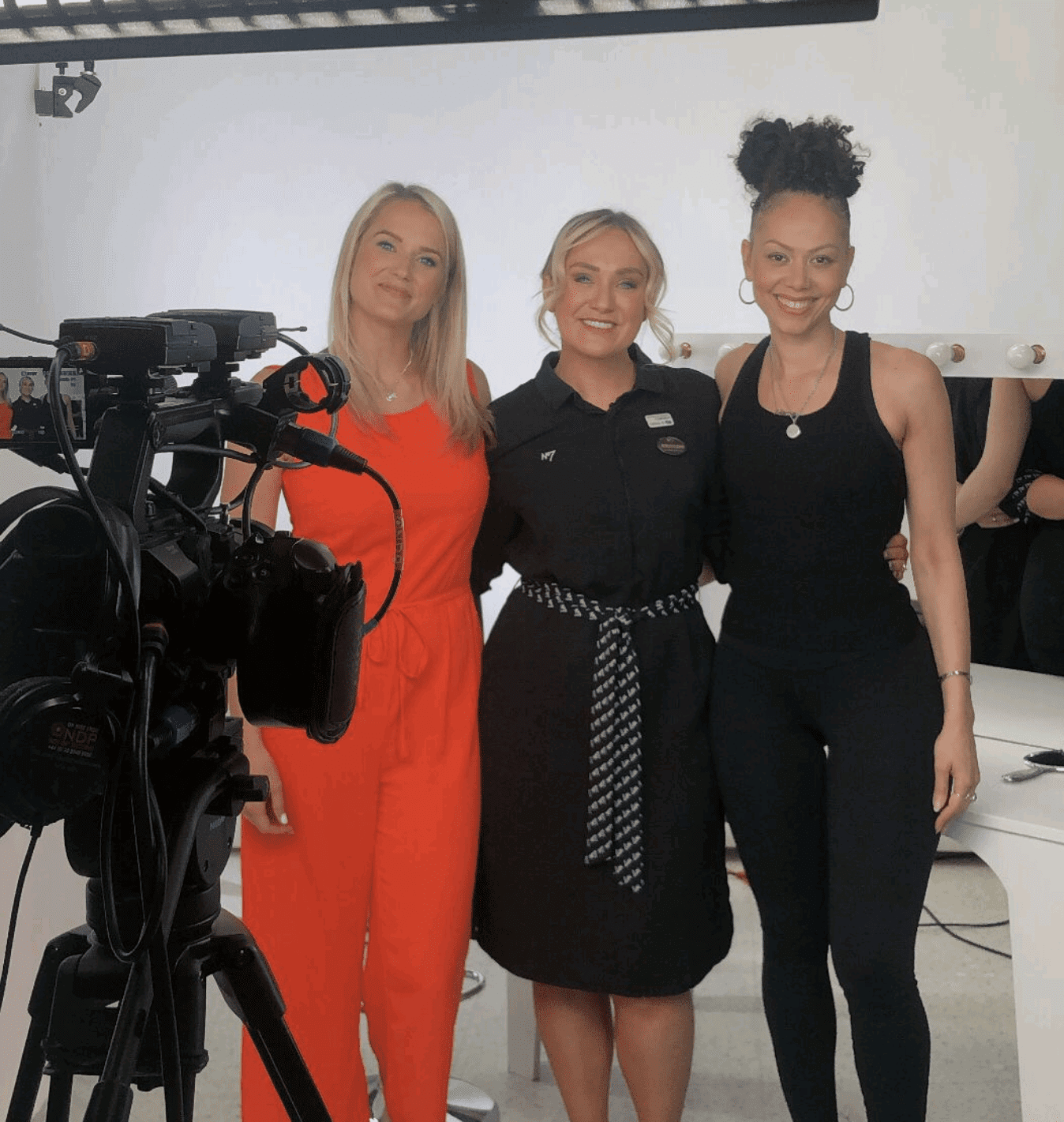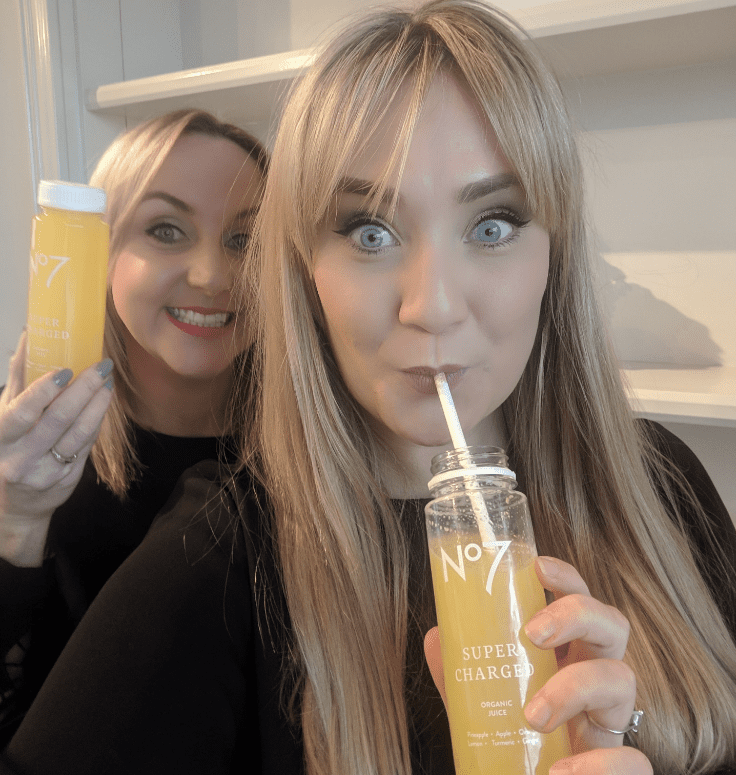 What was it like to be involved in the No7 Beauty Company Pro Derm Scan campaign with Tess Daly and Claudia Winkleman?
Imagine the scene – I take a call from my manager on a Monday afternoon asking if I want to be a part of the new Pro Derm Scan campaign with non-other than Tess Daly & Claudia Winkleman! Trying to keep my voice calm and collected I reply with a, 'Yes of course, that sounds amazing' when in reality I'm dancing around the kitchen silently screaming. Tess and Claudia are British icons who bring a sense of realness to their glamourous careers – they're working mums and are both dealing with skin concerns just like the rest of us. It was an amazing campaign to be involved in, they both absolutely loved the new service and were genuinely blown away with what the Pro Derm Scan and No7 offer to customers.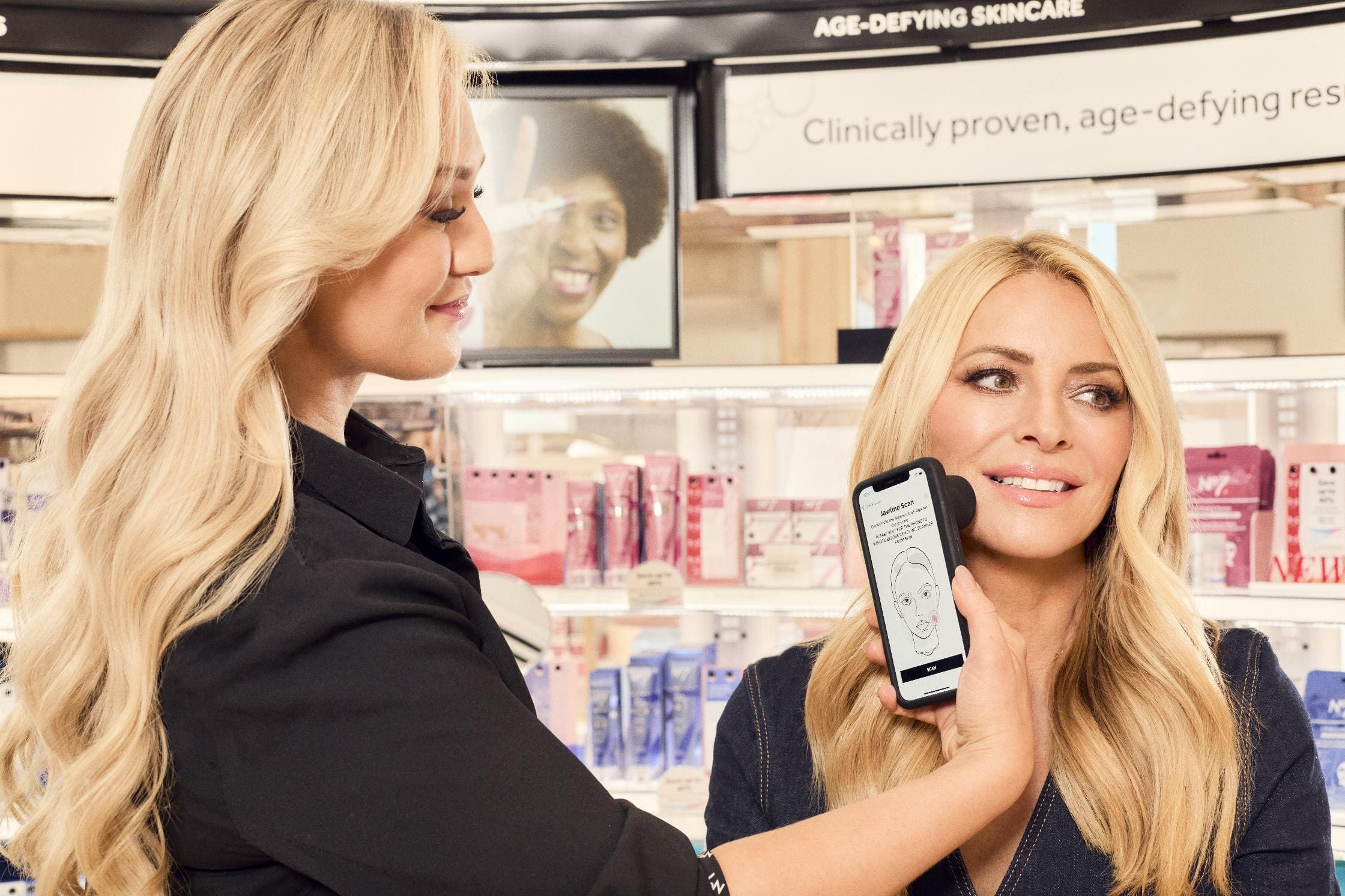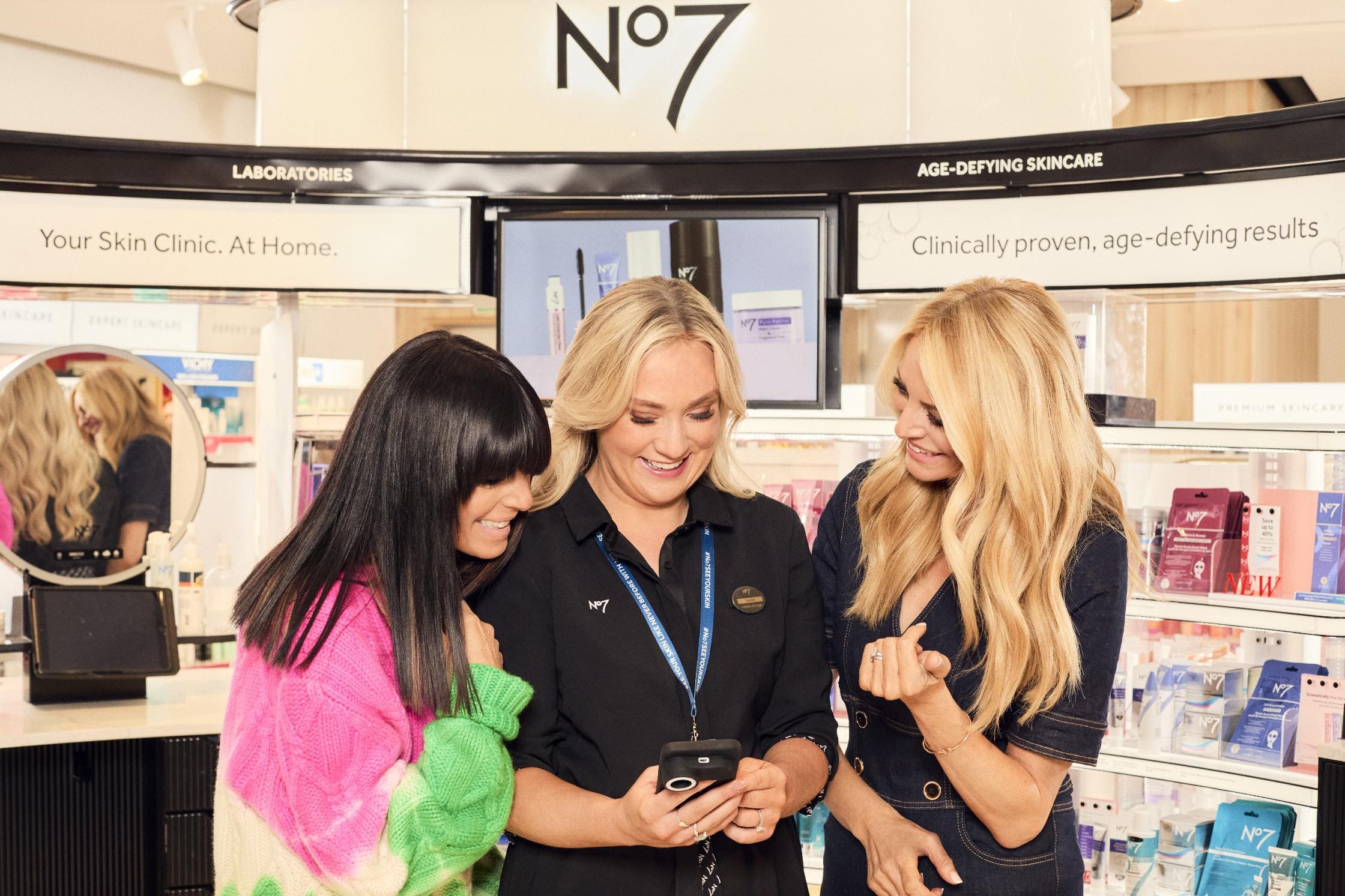 Take a look at Charlotte in action with Tess and Claudia:
Do you want to follow in Charlotte's footsteps and have an exciting career at Boots? Begin your beauty career today by viewing our No7 jobs here!
Back to top