Back to our stories
Boots Branded Food this Christmas with Amanda, Assistant Food Development Manager
I love food, cooking and eating, learning about ingredients and trends, I can't imagine doing anything else! I'm also lucky to be part of a lovely team which just makes it even better!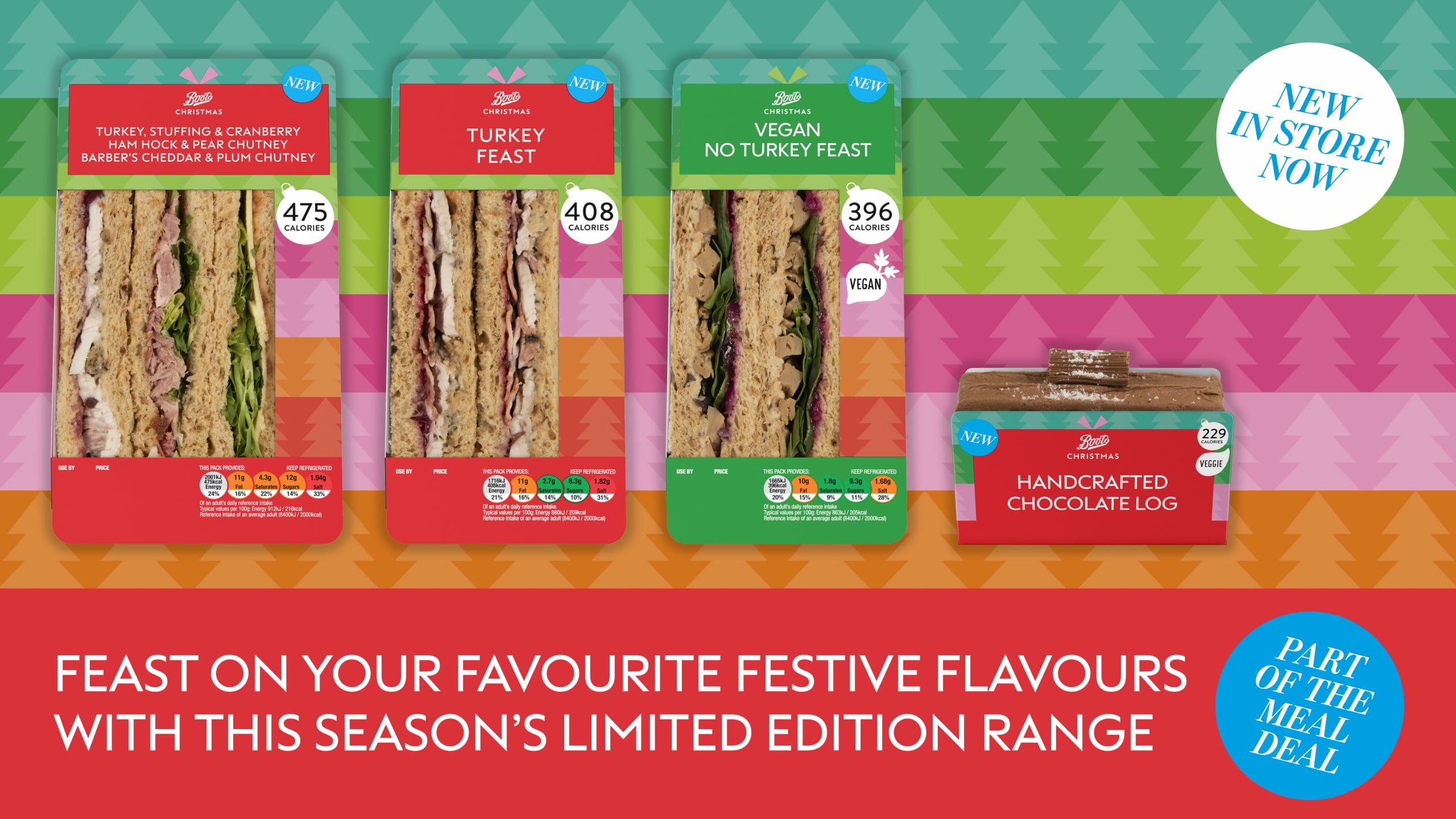 Meet Amanda from our Nutrition team. Amanda has been at Boots for 24 years and has the exciting challenge of bringing new Boots branded products to the meal deal. Find out all about her role as an Assistant Food Development Manager and find out what you can treat yourself to in this year's Christmas meal deal! 
Tell us about your role and team
I'm an Assistant Food Development Manager based at the Nottingham support office. I work in a small team of packaging and product development experts working alongside a buying team. I work on the development of Boots branded food products that are offered in our all-inclusive meal deal.  
What does an Assistant Food Development Manager do?

Firstly, it is important to keep up to date with food trends, which means following food blogs, chefs, food writers and menu reviews as well as attending trade shows and food forums. We also taste and review a range of products; this helps us to benchmark against our competitors. Developing products inspired by creative Chefs and food trends is at the core of the role. We work very closely with our suppliers, to develop new products and packaging and ensure products meet our brand standards. I work closely with the Company Nutritionist to develop the best nutrition credentials for the range. I also maintain a bank of imagery and work with other teams around the business to launch new lines.
What are the steps involved to get the Christmas meal deals on the shelves each year?
In October 2020 we launched ten new products for our Christmas range, here are the steps that go into food development each year:  
Review 
We start working on Christmas around February using our trend analysis, competitor review and market data from the previous Christmas. 
Brief our Suppliers 
We take what we've learnt and brief our suppliers on what products we'd like to see to form part of the next range. There are always some familiar Christmas favorites such as Turkey Feast, Pigs under Blankets and Brie & Cranberry.  
Packaging 
Part of the role is creating the packaging. I work with our packaging manager, buyer and a design agency to create the look and feel of the Christmas range packaging, taking cues from the in-store marketing look and feel where possible.  
Product Approval 
Once we've worked our way through tasting the delicious Christmas products – usually in the middle of Summer, products are approved, and the next stage of development continues with the products being trialed on a large scale at the manufacturers. Our technical development team then ensure the products meet all safety, quality and legal requirements. Then we're good to go!  
The question everyone must ask, do you eat lots of meal deals?
Yes, daily! As well as tasting products presented to us by our suppliers during the development process, we try products that are used for our daily product quality assessments. It's a great way of keeping familiar with the products that have launched too.  
How has COVID-19 affected customers' food shopping habits?
COVID-19 is creating some challenges, there are less people travelling through airports and train stations, therefore not choosing a meal deal for their journey. Additional local and national lockdowns also mean there are less people out shopping and less people in offices buying their lunch
What do you love about your role?
No two days are the same, the role is so varied. I love food, cooking and eating, learning about ingredients and trends, I can't imagine doing anything else! I'm also lucky to be part of a lovely team which just makes it even better!
Tell us more about what we can look forward to seeing on the shelves this Christmas
Vegan products have become huge over the last couple of years, and this year we've reintroduced our mouthwatering Vegan Xmas Market inspired sandwich – vegan seasoned sausage, roasted white cabbage, onion chutney and vegan mayo with fried onions and mustard. Delicious! 
Finally,
what is your 
favourite
 meal deal?
After all the exciting product reviewing and tasting that goes on, one of my all-time favourite sandwiches is cheese & onion! Usually with a watermelon snack and a bottle of water! 
Interested in a career at Boots Support Office? Click here to find out more.
Back to top