Back to our stories
Optical Consultant to Completing an Optometry Degree – Amrutha's Story
I saw the job advert for a Foundation Optical Consultant role with Boots Opticians and just decided to go for it even though I knew nothing about glasses or eyes!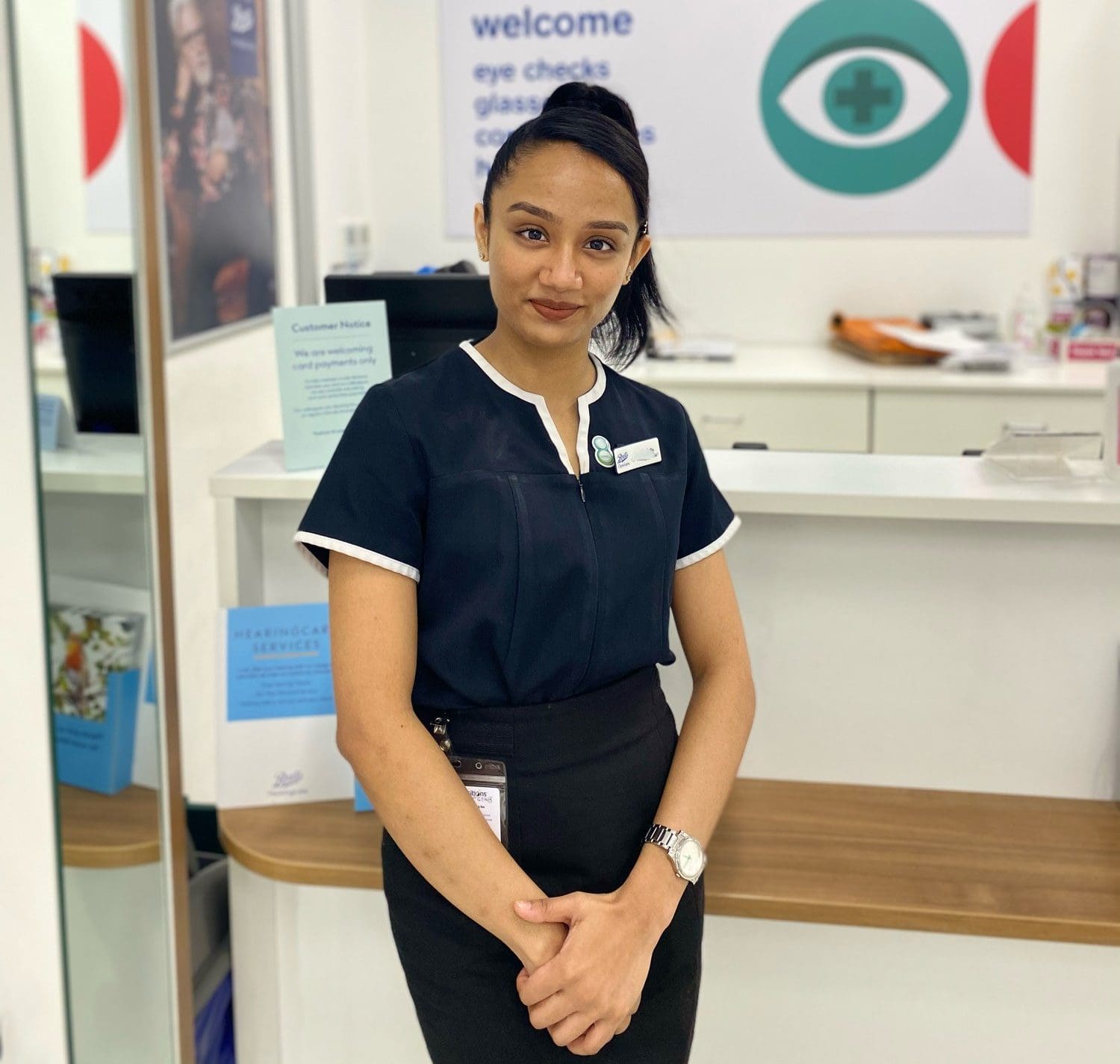 My name is Amrutha and my experience so far as an Optical Consultant at Boots Opticians has been an amazing journey. The most enjoyable part of my job is being able to see happy customers when I hand over their new glasses and knowing that I was able to help someone see the world a little clearer.
Four years ago I saw the job advert for a Foundation Optical Consultant role with Boots Opticians and just decided to go for it, even though I knew nothing about glasses or eyes!
I was successful in getting the role and just after a few weeks of starting I found that the environment, quality of service and the power of the Optometrist to change a patient's life made me ambitious to become an Optometrist.
The care we provide to customers at Boots Opticians, how keen we are in understanding their problems and helping to find solutions, are the reasons that I know Boots Opticians is the right place for me to grow and develop. Optometry is a powerful industry and can be challenging, but this means there's always something new and interesting to learn every day.
As an Optical Consultant I provide great customer service in the smallest of interactions to make sure our patients' appointments are always smooth and positive. Things like making sure their glasses are here before they arrive, giving patients a quick call if they happen to be running late, or spending the extra time to decide which glasses suit them best to ensure they feel great in their appearance when they leave. It's always important to acknowledge what our patients' needs are for us to go above and beyond their expectations. Therefore, patient interaction is in fact the most important of all.
Boots Opticians is the sole reason I now have a future career as an Optometrist. After a year of being a full-time Optical Consultant, I expressed my interest in becoming an Optometrist and my manger was very supportive. I spoke to the Boots Opticians near my university and arranged a transfer to work whilst I studied but continued to work at home during summer when I come back for holidays. When I was at work, I had the opportunity to practice what I was learning about on my course.
Because I am an international student, Boots provided financial and practical support during my time at university.
All the Optometrists I've worked with at Boots have always been so helpful and willing to show me if they see a Pathology (causes and effects of disease or injury) and explain it to me to help me understand. My team members are always happy to answer any questions I have, and my managers always ensure that I work around days that I have clinic or exams.
I would recommend Boots Opticians to anyone looking for a new opportunity and especially Optometry students. In fact, I recommended one of my classmates to my manger and she is now working at Boots and is very happy.
As a Boots colleague, securing a Pre-registration Optometrist placement was a hassle-free process. From here, I aim to become a Mobile Optometrist at Boots Opticians and eventually a Practice Manager. Boots are incredibly supportive of their team and I'm more than thankful for my career and the continuous support I receive.
Looking for an Optical Support role whilst you study, or wanting to start your career in Optometry? Visit our Opticians careers page here.
Back to top