Back to our stories
Faria's career journey with Boots Opticians
Sharing my knowledge with my team is super rewarding and I have enjoyed seeing them progress in their roles within the practice.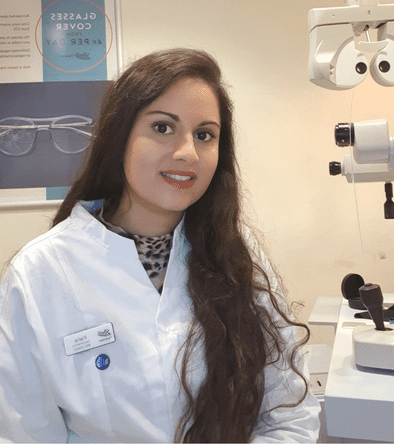 Tell us about your optical career so far
I began my journey with Boots Opticians over 10 years ago as a Pre-registration Optometrist. The Boots Pre-registration Optometrist training year is very structured and helped shape me as a well-rounded Optometrist, giving me a great start to my career. Since then, I have worked in a hospital and in an academic setting alongside either working as a Locum Optometrist or Resident for Boots Opticians. I am now a Senior Optometrist and I currently have my own Pre-registration Optometrist who I am training which is very rewarding; you end up learning so much by teaching others.
What do you enjoy about working at Boots Opticians?
The biggest thing for me would have to be the structure and continued training and learning available. There's always an event, webinar or online material to learn from and develop. There's also great recognition and appreciation if you've gone above and beyond in your role to help others. I was recognised this year for the work I did supporting a Pre-registration Optometry student which was a lovely surprise. Kindness and hard work should be rewarded, and I feel Boots Opticians value this.
What do you like most about your role?
I've always been a very people orientated person and I love to teach and share the knowledge I've acquired over the years. Having worked in the same practice for years I've really got to know many of my patients and their families – and I love it! I feel satisfied being able to help others and solve eye care issues. I've always been passionate about my patients, and if they're happy I am happy. Sharing my knowledge with my team is super rewarding and I have enjoyed helping them and seeing them progress in their roles within the practice.
Are there continuous training opportunities at Boots Opticians?
I trained as a Pre-reg Optometrist over 10 years ago with Boots Opticians. Since then, I've been on many away days arranged by Boots Opticians to improve knowledge and better treat patients. Time has been taken out of the practice for me to work on my own development – there are clinician evenings where Optometrists can network, discuss topics and learn from each other, CPD sessions and other resources to keep up to date with the latest developments in eyecare.
What advice do you have for someone joining the Boots Opticians team?
If you're looking for continued development and support, you'll love it. There are numerous opportunities to grow and further your career if you want to. You'll have great clinical support and patients are really put at the forefront. I would say get stuck in, be a part of the team and don't be afraid to put yourself forwards for more opportunities to grow!
Whether you're a Pre-registration Optometrist or have years of experience like Faria, you can grow with Boots Opticians. Visit our Opticians careers page here.
Back to top