Back to our stories
Best of the Best – Opticians Store of the Year!
I am just so happy and proud. We were all holding hands as they played our video and I was so emotional when Kevin announced us as the winners.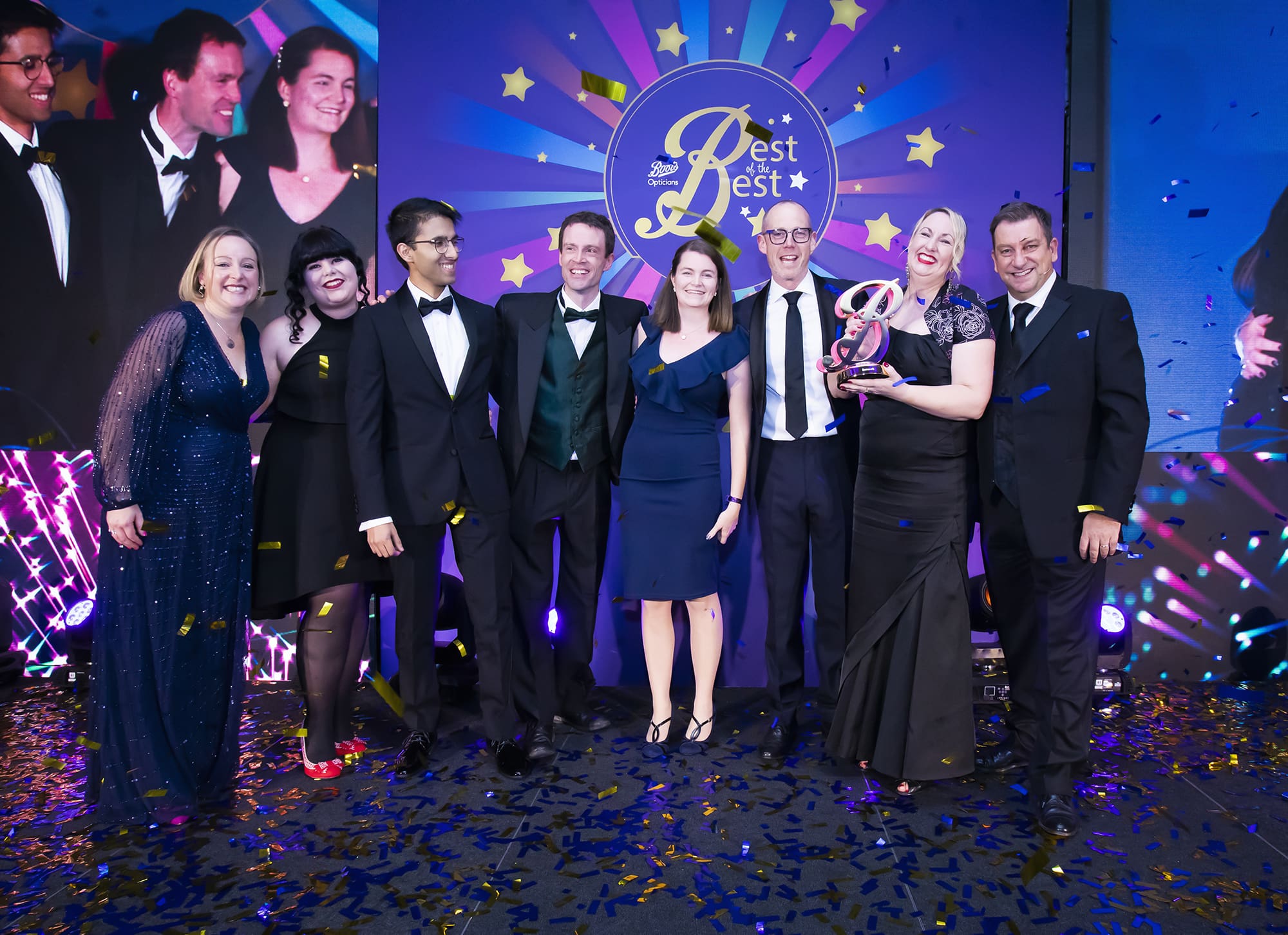 Our 'Best of the Best' awards event is an evening dedicated to recognising and celebrating our colleagues in Boots Opticians.
Our Exmouth store won Store of the Year and we heard what this means to the whole store from Store Manager Sarah Mendham and Area Manager Katie Berriman.
How did the team feel when they found out they were finalists for Store of the Year?
Sarah – It was a massive achievement, we work so very hard every day and we put a huge amount of effort into our nomination, so it was amazing news when we heard we were through to the final, the team were just so shocked and it was such a privilege to be recognised. We are a reasonably small team in a town in Devon, to hear that we had made it to the final was so surprising. When I heard the news I could not wait to share it with my team (and our customers) and for them to receive the recognition that they deserve. I do not think that they quite believed it!!
Katie – The whole of Devon and Cornwall and the new South West team were behind Exmouth, cheering them on from afar – seeing your fellow colleagues in the final brought a huge sense of pride and joy to the whole area.
What did it mean to you to make it to the final?
Sarah – I was just so proud, I was overwhelmed. I have worked for Boots Opticians for 17 years and this was the highlight of my career. Just to be recognised for the hard work that I put in every day is so lovely.
Katie – Being part of what is the most exciting night of the year for Boots Opticians brings a massive amount of pride and excitement. The finalist are there because they have a vision and purpose to showcase the exceptional work they do every day. From the nomination and of course then to get through to the final four was a tremendous achievement but we went there to win.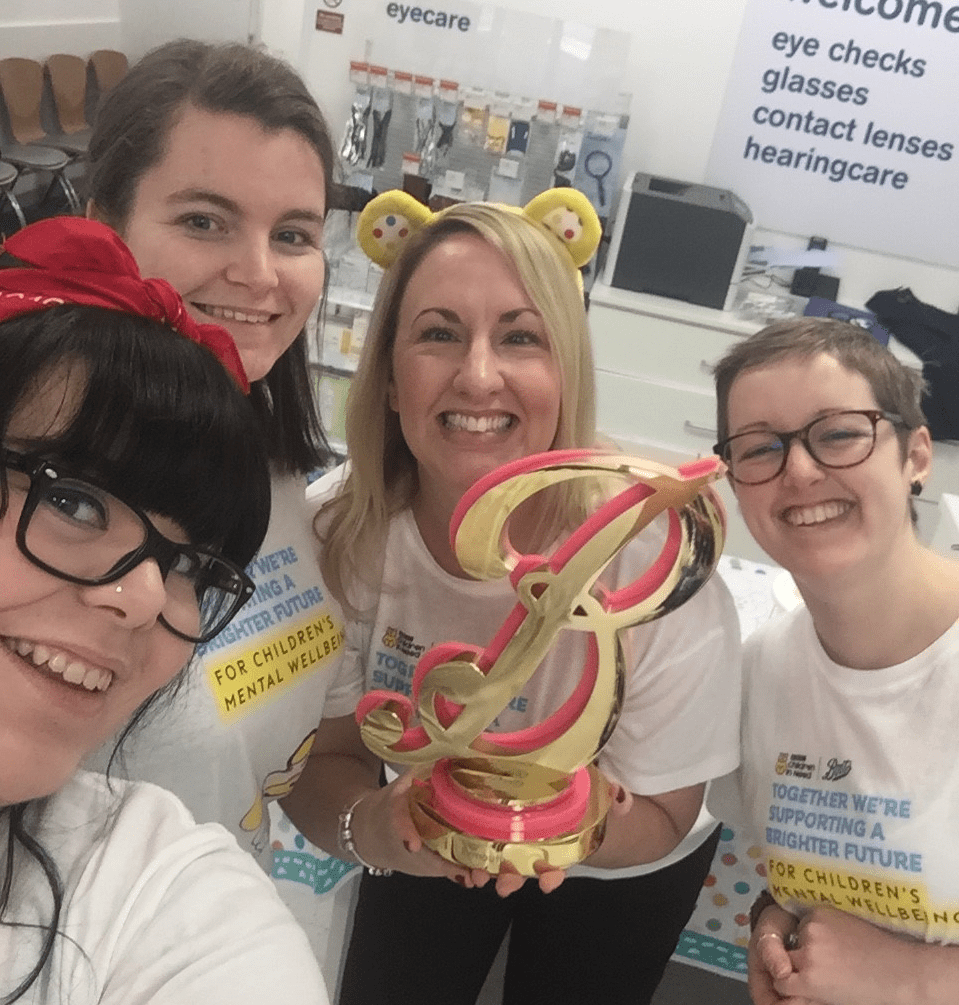 How did you feel on the night and what was the awards ceremony like for you and your team?
Sarah – My favourite part of the day and evening was sharing this with my team, it was so amazing to see them so spoilt and treated so well. We loved getting dressed up and meeting colleagues from around the company. We were incredibly nervous and it was so lovely to see other finalists and winners and their reactions. There were a few colleagues at the awards that I have worked with previously and that have become friends over the years and to see them win as well was just amazing.
Katie – Although of course there were nerves the overriding feeling for me was pride, not just for Exmouth but also seeing all the other finalist shining that night.
When you found out you were the winners what feelings ran through your mind?
Sarah – I couldn't believe it, I still can't. The other finalists were so outstanding and really supportive when we won; I think that they were all incredible.
I am just so happy and proud. We were all holding hands as they played our video and I was so emotional when Kevin announced us as the winners, I cannot describe how that feels, it was easily the best moment of my career. I keep reliving the moment and it doesn't seem real, we've watched the video back and it is truly amazing.
Katie – Sheer elation and even now I keep reliving the moment they were announced the winners – we had tough competition so to be triumphant meant so much.
What's next for Team Exmouth?
Sarah – Taking the award back to Exmouth has been great, our customers are really interested and so supportive. We are looking forward to celebrating with the rest of the team that stayed to look after the practice; obviously we owe them a huge THANK YOU! We take pride in everything that we do and want to ensure that we carry on representing Boots Opticians as an outstanding place to be as we are now Store of the Year, so a huge responsibility! We have already planned our next few charity events, we have some local charities that are close to our hearts and we love supporting them.
Katie – Hopefully the Opticians Awards – and also supporting another practice on their journey to the awards next year – I do have one in mind – so watch this space!
Back to top