Why join us?
As a Pharmacy Advisor, an Accuracy Checking Pharmacy Technician or a Pharmacy Technician, customers and patients will be at the heart of everything you do. You'll listen and provide advice, whether that's on over the counter medicines or helping them to manage their prescriptions. You'll also help with the efficient running of the dispensary.
When you join us in one of these roles, we will provide you with continuous professional development, alongside the support and training you need. Some of these roles require you to have achieved a relevant professional qualification and be registered with the General Pharmaceutical Council in order to apply.
COVID-19 Jobs
We are proud to be supporting the NHS in delivering the Covid-19 vaccination programme. We have Immunisation Assistant jobs available to help with the running of our vaccination clinics, where you will be key to delivering brilliant care at a time when our communities need us the most.
Immunisation Assistant
You will be the first person a patient will see, so your role is to ensure a warm welcome, collect their information and explain how the appointment will work to put the patient at ease. Watch the video below to find out more.
Latest Pharmacy Support Jobs
Cork, Blackpool Retail Park
Bangor, Main Street
Permanent
Full-time | Part-time
Why Boots?
At Boots care is at the heart of everything we do.
Discover how we support you to achieve your goals, how we're creating an open and inclusive working environment and explore our meaningful benefits.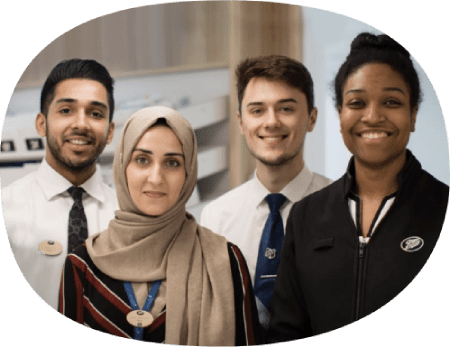 FAQs
Answer
You will need to have an NVQ Level 2 equivalent in Pharmacy Services and may currently be or have previous experience of working as a Pharmacy Advisor (Dispensing Assistant) to join us. We do also offer Trainee Pharmacy Advisor positions where you will work towards achieving an NVQ Level 2 equivalent in Pharmacy Services.
Answer
Unfortunately, we cannot offer work experience in our pharmacies or in our stores at this time. We are working with a national charity, Speakers for Schools, to deliver a virtual experience programme, you can find out more on our Work Experience page.
Answer
Our salaries vary based on your skills, experience and the location of the role, this is something that we would be able to discuss with you at interview.